April 15, 2023
Florida Bound: Can't Get There from Here by Air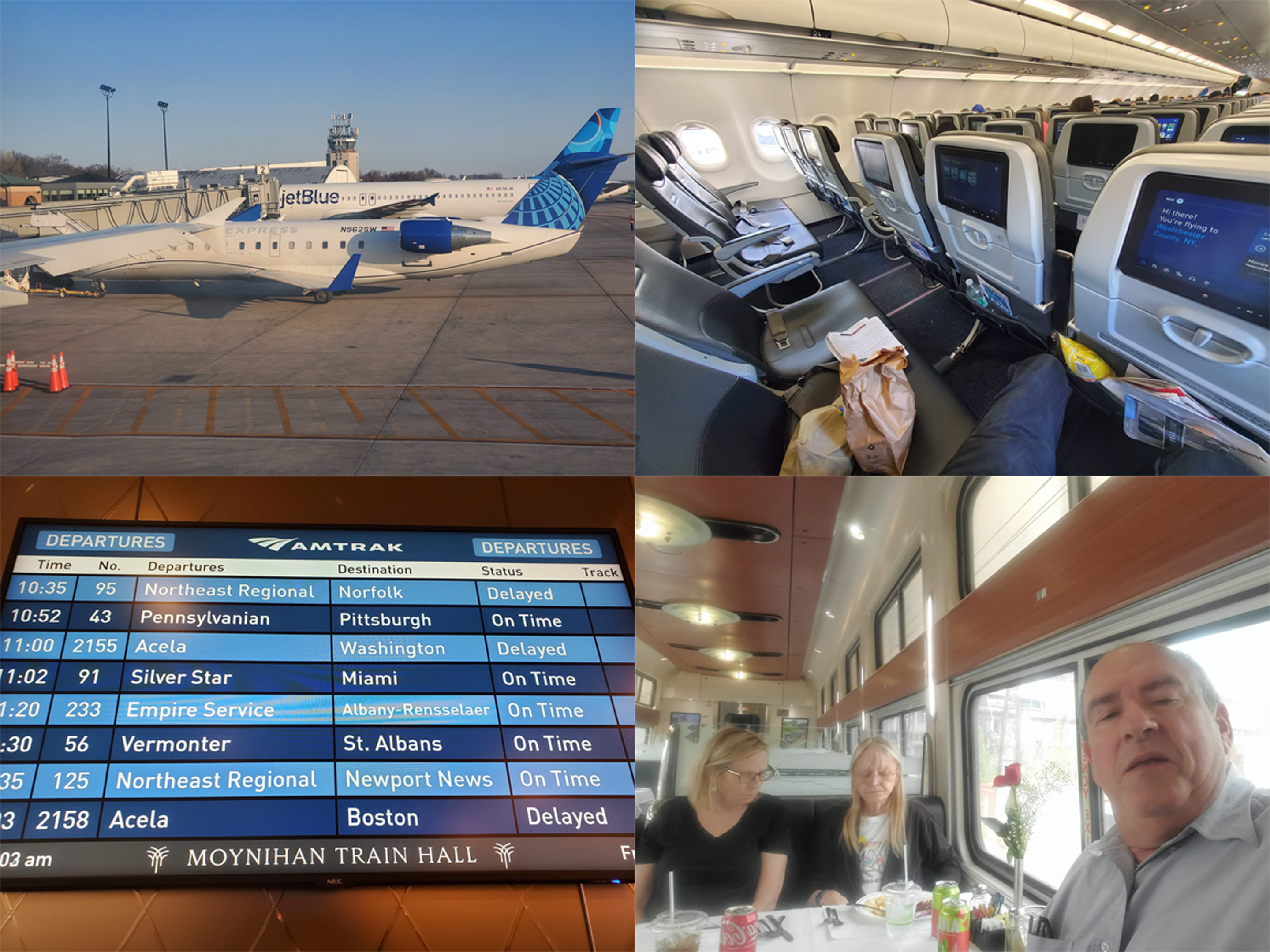 Travelogue by Kent Patterson
---
I never imagined I'd ever divert from a plane to a train account of weather, but finally did after fifty years: on Wednesday evening April 12th, I boarded a JetBlue flight at Westchester County Airport for a celebration in Florida, only to see the flight cancelled after an hour at Gate due to horrendous rain and flooding at Ft. Lauderdale Airport (my whole day's activities revolved around this flight).
I was unable to get other flights to adjacent points, and two re-booked flights were eventually cancelled. Stewing in my living room the next morning over this upcoming lonely "wasted week", desperate, I called Amtrak Guest Rewards.
Fares were very high, and it seemed everyone wanted to get on a train. A few sleeper spaces New York to Florida were selling for between $760 and $1220. But, Amtrak Reward miles saved the day. Although I paid a heavy chunk (50,000 points, of 350,000), I got the last room, a bedroom aboard the Silver Star, and the slower train. At this point, I welcomed the longer ride to chill-out.
This trip as I write nearing De Land, I experienced three enhanced dining car meals, including the five years on hiatus Flatiron Steak, and a fresher Salmon. There was company at the table again, returning the lost art of dinner conversation: although some lapsed to their phones at times as in a trance. I had a very lively conversation with a university professor and journalist, as seen in the above photo. The menu has been improved too.
I enjoyed watching the landscape pass, taking note of the many changes I have observed over the years from my train trips to Florida. Passing Winter Park traveling through the central interior of the Sunshine State, I observed that development in rural Florida is turning this once sparse region of the state into a crowded city – more farms and woods destroyed every trip.
Anyway, it looks like this time Amtrak beat the plane to Florida: such diversions were common, until the 1960s before weather forecasting and jets made flying more reliable. It wasn't unusual for business travelers to book both a plane and train, to allow for foul weather air cancellations.
---
Kent Patterson worked 37 years at Metro-North, Amtrak, Conrail, and Penn Central after high school; long-time member of the Empire State Passenger Association.