Southern Tier Service
Southern Tier Service
UPDATE
Amtrak and Pennsylvania Regional Authority Release Study Examining the Scranton – New York Corridor
---
A two-year analysis of potential rail service between Scranton and New York City estimates the service could carry more than 470,000 riders per year and generate some $111 million annually in economic benefits. The study included operations planning to develop a sample schedule, ridership estimates, economic impacts and an infrastructure assessment for the Pennsylvania segment. The infrastructure assessment estimates costs to upgrade track to accommodate passenger trains along 60 route miles owned by PNRRA between Scranton and the Delaware Water Gap.
The new Amtrak intercity service would have three daily roundtrips and a 2:50 travel time, for an average speed of about 50 mph. Trains would travel at a maximum speed of up to 110 mph over the restored Lackawanna Cutoff segment, and 60-to-80 mph on other segments with significant curvature and commuter traffic. Stations would be located in Scranton, Mt. Pocono, East Stroudsburg, Blairstown, Dover, Morristown, Montclair, Newark and New York City (Penn Station).
Service could potentially begin as early as 2028, pending completion of design work and construction by stakeholders including PennDOT, NJ TRANSIT and PNRRA with support and funding from the federal government. The proposed service would utilize upgraded existing tracks in Pennsylvania between Scranton and the Delaware Water Gap, 20 miles of restored tracks on the "Lackawanna Cutoff" between Delaware Water Gap and Andover, New Jersey, and existing tracks owned and operated by NJ TRANSIT and Amtrak between Andover and New York City.
This newly released report estimates that track improvements on the PNRRA owned segment will cost between $100M – $175M, while acquisition of trains is estimated to cost approximately $70M – 90M; these two items are anticipated to be about 30-45% of the total project cost. More design work will estimate the total cost of re-establishing Scranton – New York City passenger rail service, including fully restoring the Lackawanna Cutoff, building stations and creating an equipment service facility. Acceptance of the project into the Corridor ID program would accelerate the process needed to restore this important transportation connection.
---
LINK TO THE "ANALYSIS OF OPTIONS FOR SCRANTON – NEW YORK AMTRAK PASSENGER RAIL SERVICE STUDY"
---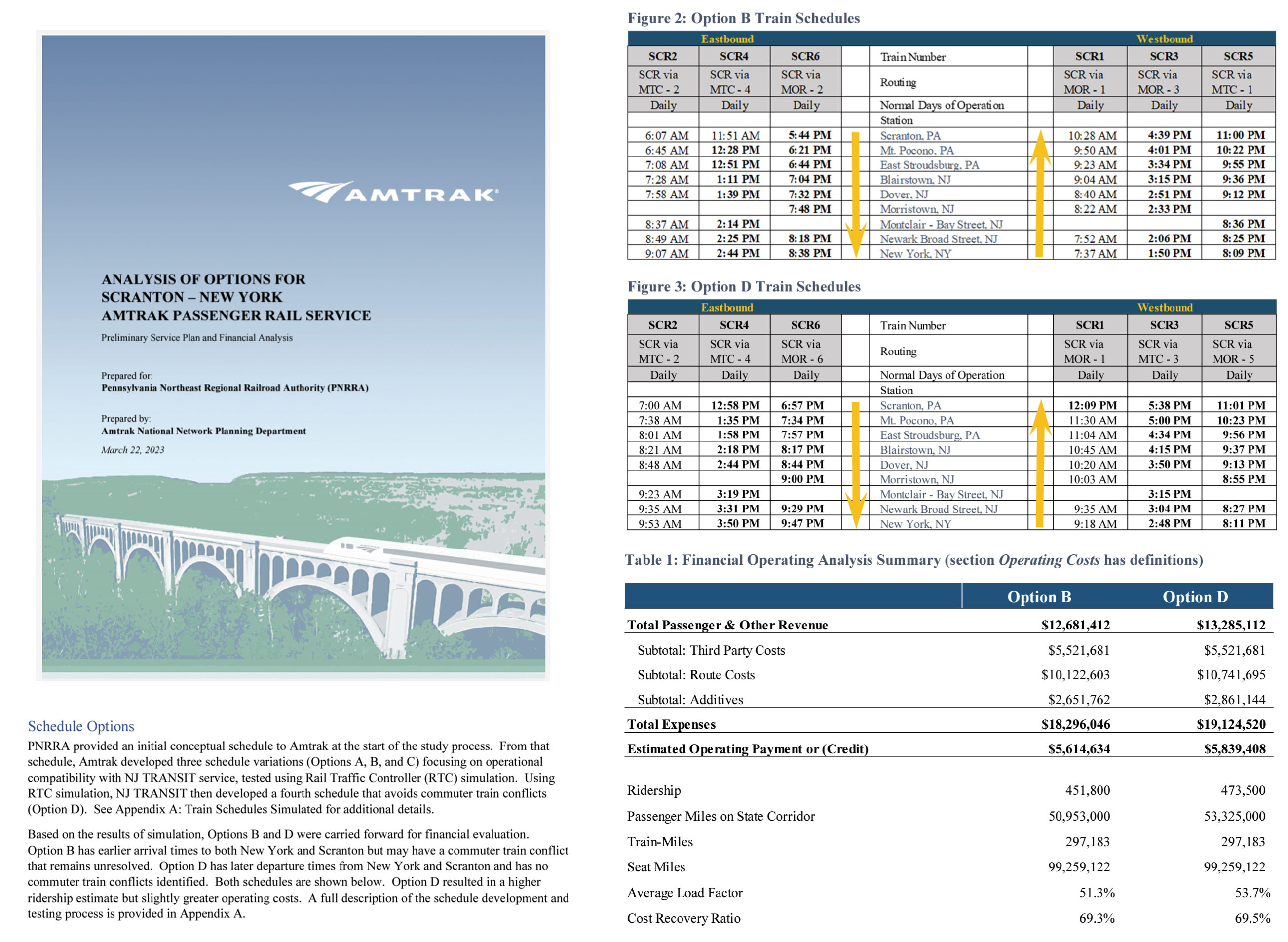 ---

ABOVE: The Southern Tier Corridor and its Branches (in red) consists of the former mainline tracks of the Erie-Lackawanna Railroad and offers an alternative statewide passenger rail corridor to the Empire Corridor (in blue), which runs along the former mainline tracks of the New York Central Railroad.
Southern Tier Passenger Rail Service
There has not been passenger rail service to New York State's "Southern Tier" since before Amtrak's inauguration in 1971. Historically the Delaware, Lackawanna, and Western Railroad from New York City had offered a very smart intercity passenger service to Buffalo; made famous by its advertising icon Phoebe Snow, a fashionable young lady whose cloths remain as white as snow because of the lack of smoke ad cinders, the railroad's steam locomotives burning a cleaner hard coal. From 1900 to the First World War Phoebe Snow was featured in an innovative and aggressive advertising campaign of print ads, billboards, vaudeville acts, and even an early motion picture. The fictious woman passenger became such an icon that model and actress Murray Gorsch who portrayed Phoebe Snow, drew five thousand people to a reception in Binghamton Press Club in 1905.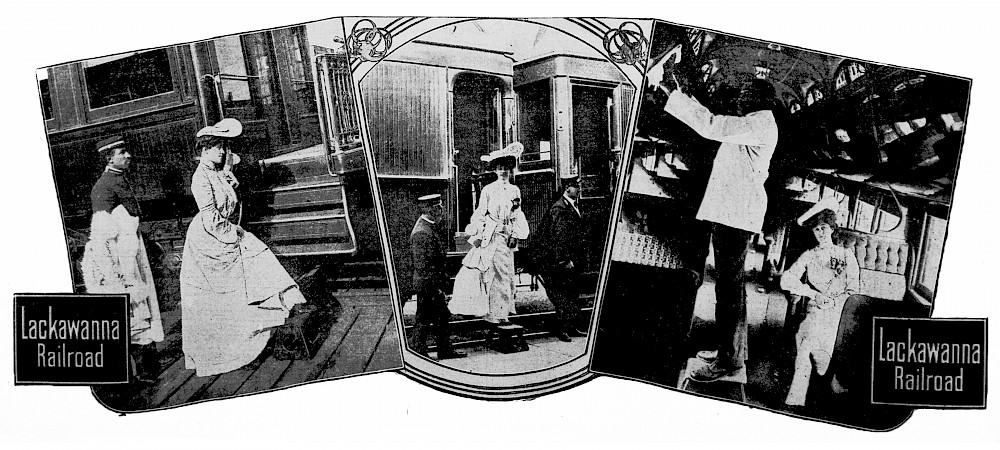 ---
Says Phoebe Snow
about to go
upon a trip to Buffalo
"My gown stays white
from morn till night
Upon the Road of Anthracite"
---
The Lackawanna's mainline ran 395 miles from Hoboken Terminal on the Hudson River opposite Manhattan to Downtown Buffalo, passing through the cities of Scranton, Binghamton, Elmira, Corning. Branch lines of the Lackawanna from Binghamton connected to Cortland, Richfield Springs, Utica, Syracuse, and Oswego. With a shorter and well-built mainline the Lackawanna was a viable competitor to the New York Central (435 miles NYC-Buffalo) with its fastest trains only 10 minutes slower than the Empire State Express, despite the mountainous terrain covered through the Poconos and Southern Tier. Yet while the New York Central had Grand Central Terminal in the heart of Midtown Manhattan, passengers of the Lackawanna had a slow ferryboat ride across the Hudson to New York City proper, a significant disadvantage.
Service between Chicago, Buffalo, Binghamton, and New York City was also offered by the Erie Railroad, which merged with the Lackawanna in 1960 to form the Erie-Lackawanna Railroad. These two railroads also offered through service to Chicago, the with trains including the Atlantic/Pacific Express, Erie-Lackawanna Limited, and The Lake Cities. After WWII in the Postwar Era despite a valiant effort by the Lackawanna – including launching a new streamline train named after their beloved advertising character Phoebe Snow – passenger service ended in 1970, a victim of competition from airlines and automobiles.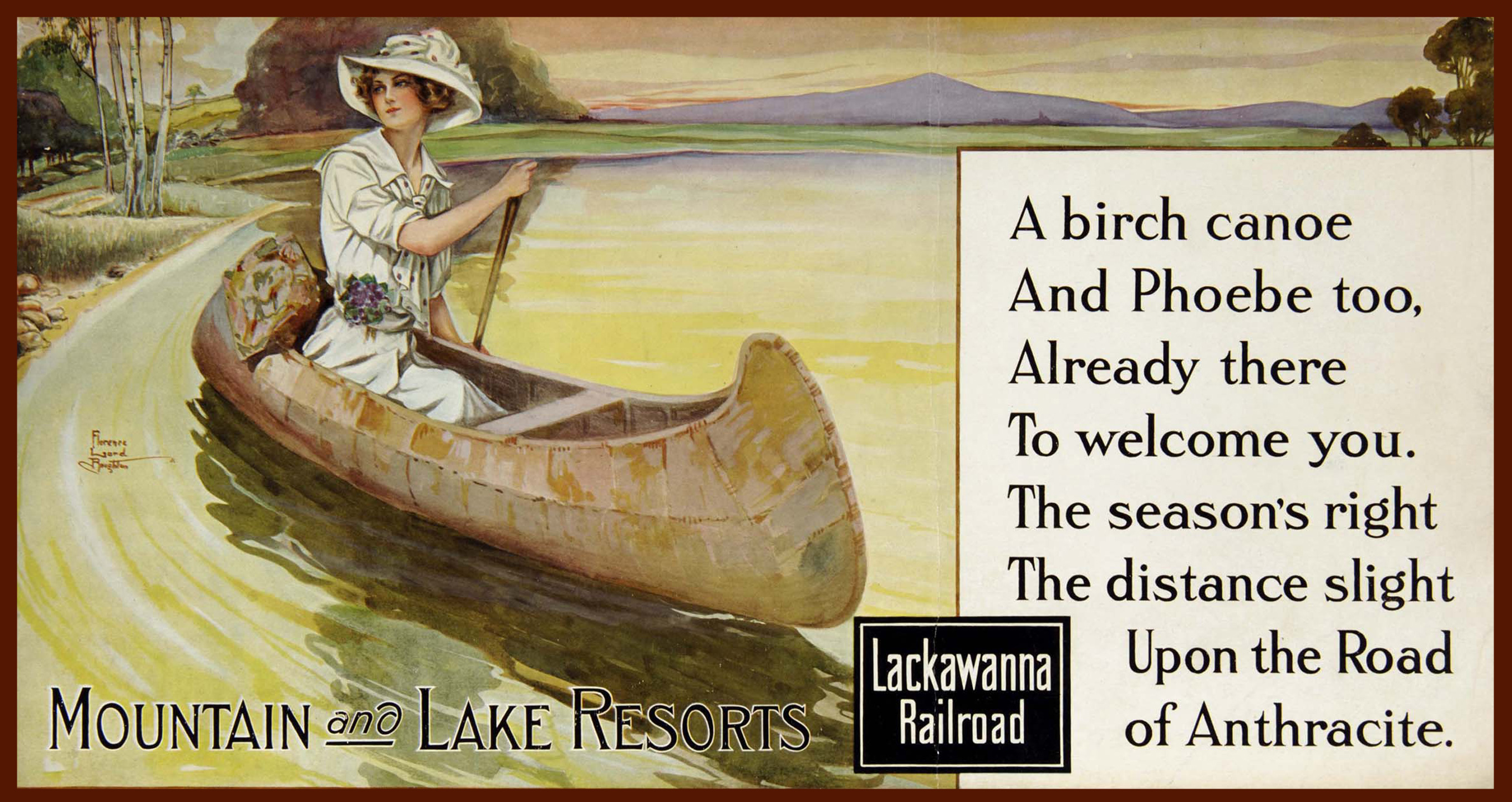 However, interest in restoration of passenger rail service as bubbled up to the service over the years, including recently in 2006 when an April's Fool article by Urban Corning announcing that Amtrak was restoring passenger service drew 40,000 responses, with many expressing excitement that passenger trains were coming back, making queries made about ticket prices. Since then, several public meetings have been held to build up interest in bringing the passenger rail service back to the Southern Tier.
A major obstacle is that the direct route to New York City has been cut, with the abandonment of the Lackawanna Cutoff, a once state-of-the-art 28.5-mile grade separated "super railroad" of epic fills and soaring concrete viaducts from New Jersey across the Delaware into Pennsylvania at the Delaware Water Gap. In the railroad consolidation of the 1970s the tracks were declared redundant and removed by 1984.
As of 2023 plans are moving forward to bring Amtrak service to Scranton, PA. According to the Pennsylvania Northeast Regional Railroad Authority in 2022, all the feasibility, environmental and preliminary engineering approvals have already been completed for a service to Scranton. Amtrak estimates that it would take 3 to 5 years and $2.9 billion in funding to complete the project if fully funded.
The current plan is for three daily round trips with a 3hr 25min travel time, via a 136-mile routing from New York Penn Station along the Northeast Corridor, connecting with New Jersey Transit's Morristown Line at the SWIFT Interlocking (Kearny Connection), then on to Scranton via a rebuilt Lackawanna Cut-Off through a connection with the Morristown Line at Port Morris Junction. Rollingstock would need to be dual-mode – likely the new Siemens trainsets Amtrak is ordering for the NEC – running off overhead catenary on the NEC and NJT Morristown, and onboard diesel over the Lackawanna Cut-off and the Pocono Mainline to Scranton.
The State of Pennsylvania has made the first steps towards construction by matching a federal grant to spend $7.4 million to install 43,000 new railroad ties on 40 miles of track of the Pocono Mainline to the scenic Delaware Water Gap on the New Jersey border. In New Jersey track needs to be restored to over 21-miles of the abandoned yet well-built Lackawanna Cut-off, connecting to the active track of the NJT Morristown Line.
ABOVE: Map of the Lackawanna Cutoff, the section of the former DL&W mainline awaiting restoration. (Map NJ Transit)
Extending this Scranton service to Binghamton would require track access and improvements to Norfolk Southern's 59-mile Sunbury Line, the former Lackawanna mainline. This is a well-built railroad that includes the Nicholson Cutoff, noted for its superb engineering, including the magnificent Tunkhannock Viaduct with its concrete arches.
The postwar streamliner 'Phoebe Snow' ran over the once 70-mph double-track railway with a 55-mph average speed, the diesel passenger train racing through and over the rolling terrain of steep hills and valleys. With a 10-min layover in Scranton, Binghamton to Penn Station could have 4hr 30min travel time for an average speed of 43-mph.
With Binghamton only 59 miles further up the mainline from Scranton, this is a project that could conceivability be folded into the existing Scranton project as a second phase, instead of an entirely new project and service. The "Greater Binghamton" region of Broome and Tioga counties is also the largest urban center in the Southern Tier, having a population of 247,138. It is home to several technology and defense manufacturers and has a major public research university. This makes Binghamton similar in size and economy to Burlington, Vermont where the 'Ethan Allen' was recently extended.
In fact, the construction works necessary to extend the planned Scranton service to Binghamton are essentially the same as what was done in Vermont for the $115 million extension to Burlington, with its upgrading of 68-miles of track and grade crossings, a tunnel reconstruction, the building of three stations, and a layover facility.
Lastly, rail service to Binghamton has in the past received high-level political endorsement. During the last great federal binge of funding for passenger rail in 2009, US senators Charles Schumer, Kirsten Gillibrand, Robert Casey, and Arlen Specter wrote a joint letter to President Barack Obama asking for his support for a Binghamton-Scranton-New York City rail service.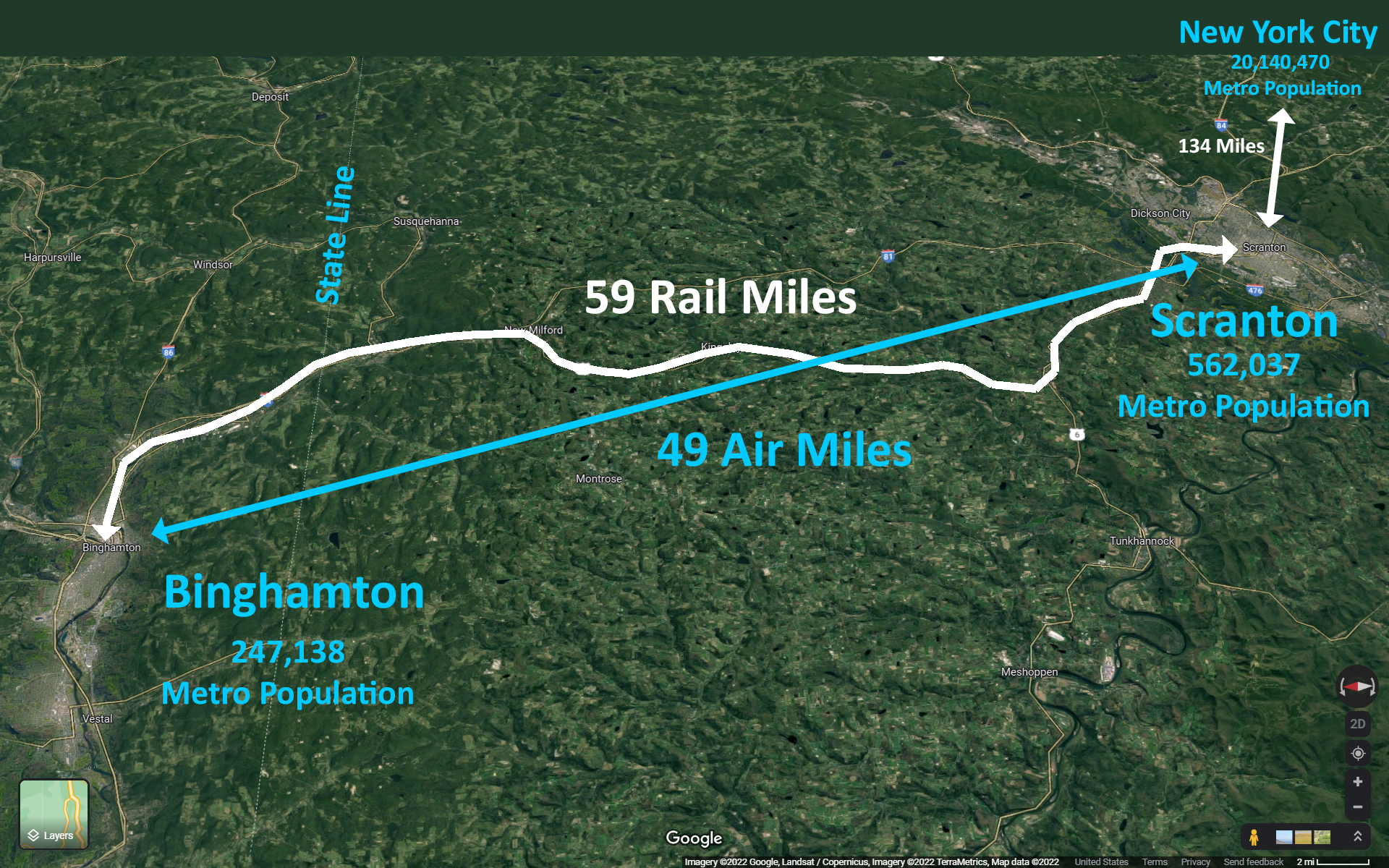 ABOVE: Binghamton, NY is only 59 miles by rail from Scranton, PA
Now many want to see passenger rail service beyond Binghamton to other Southern Tier destinations, but the lack of even preliminary planning and public consultation makes this a distant but possible prospect. The logical route for extending a Southern Tier passenger service is to continue up the current Norfolk Southern freight line to Buffalo, stopping at Elmira, Corning, Hornell, Lechworth State Park, and Attica.
However, there are other possible routes, or perhaps branches that could be served by passenger rail service. From Binghamton trains could travel up the tracks of regional freight railroad New York, Susquehanna and Western Railway to Cortland and then Syracuse. The City of Jamestown in Chautauqua County is very enthusiastic about restoring passenger rail service to its former downtown Erie Railroad Station, applying in 2022 to the 'Corridor Identification and Development Program (Corridor ID)' of the Federal Railroad Administration for consideration of rail service to and through the city connecting to Binghamton, Buffalo, New York City, and Chicago.
If Jamestown, a city of 28,712 people, is to see intercity rail service it would come most likely as part of a New York-Binghamton-Buffalo service, requiring perhaps the use of a double Siemens Venture-Airo trainset that would be split and combined at Hornell with the main New York-Buffalo train. This is a procedure common in Europe and Japan for both high speed and intercity rail services and is done at a limited scale in North America, for example VIA rail splitting some of its Corridor trains from Toronto at Brockville, Ontario; with one half going to Montreal and other half going to Ottawa.
The same could be done at Hornell, with one half going to Buffalo and the other half going to Jamestown over the tracks of the regional freight railroad Western New York and Pennsylvania Railroad. Station stops could be made at Alfred, NY where there is the respected private Alfred University; Olean, NY a city of 13,937; and Salamanca, NY a city of 5,929 governed by the Seneca Nation of New York. In addition to local residents and college students, rail service here could facilitate increased tourism, Jamestown itself being home to the National Comedy Center and Lucille Ball-Desi Arnaz Center.

ABOVE: Short Siemens Venture-Airo trainsets like those planned for Ontario Northlander service could allow multiple branches of the Southern Tier be served by splitting and combining trainsets, the combined trainsets allowing for one-seat rides to and from Penn Station where available slots for track access is limited due to high demand from commuter and intercity services.
The biggest obstacle to rail service to the Southern Tier of New York State is the same for what has long been the biggest obstacle for major expansions of intercity passenger rail in Upstate NY, the lack of institutional passenger rail planning and management capacity at NYSDOT. It has long been the sad situation that NYSDOT lacks the mandate, expertise, and capacity to focus on more than modest improvements to the existing Empire Corridor.
Unless this changes at NYSDOT, with the Freight and Passenger Rail Bureau given the mandate and in-house human resources to effectively plan and oversee state-supported Amtrak services, then opportunities like piggybacking on the ongoing efforts to bring Amtrak service to Scranton to also bring service to the Southern Tier, will pass by like lonely whistling train rumbling through the night.
LINKS TO AMTRAK'S "Scranton-New York City Intercity Corridor Infrastructure Assessment Report"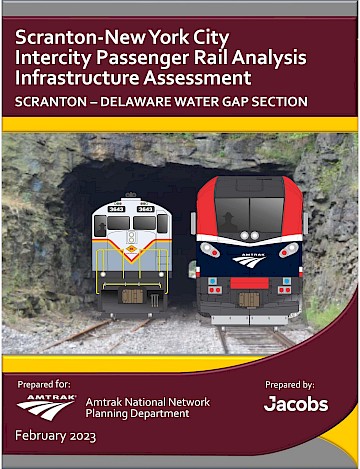 NOTE: These links are to LARGE PDF files!
---
---
---
---
---
---
---
---
---