May 27, 2021
CSX Takes Controlled Sidings Out-of-Service Along the Empire Corridor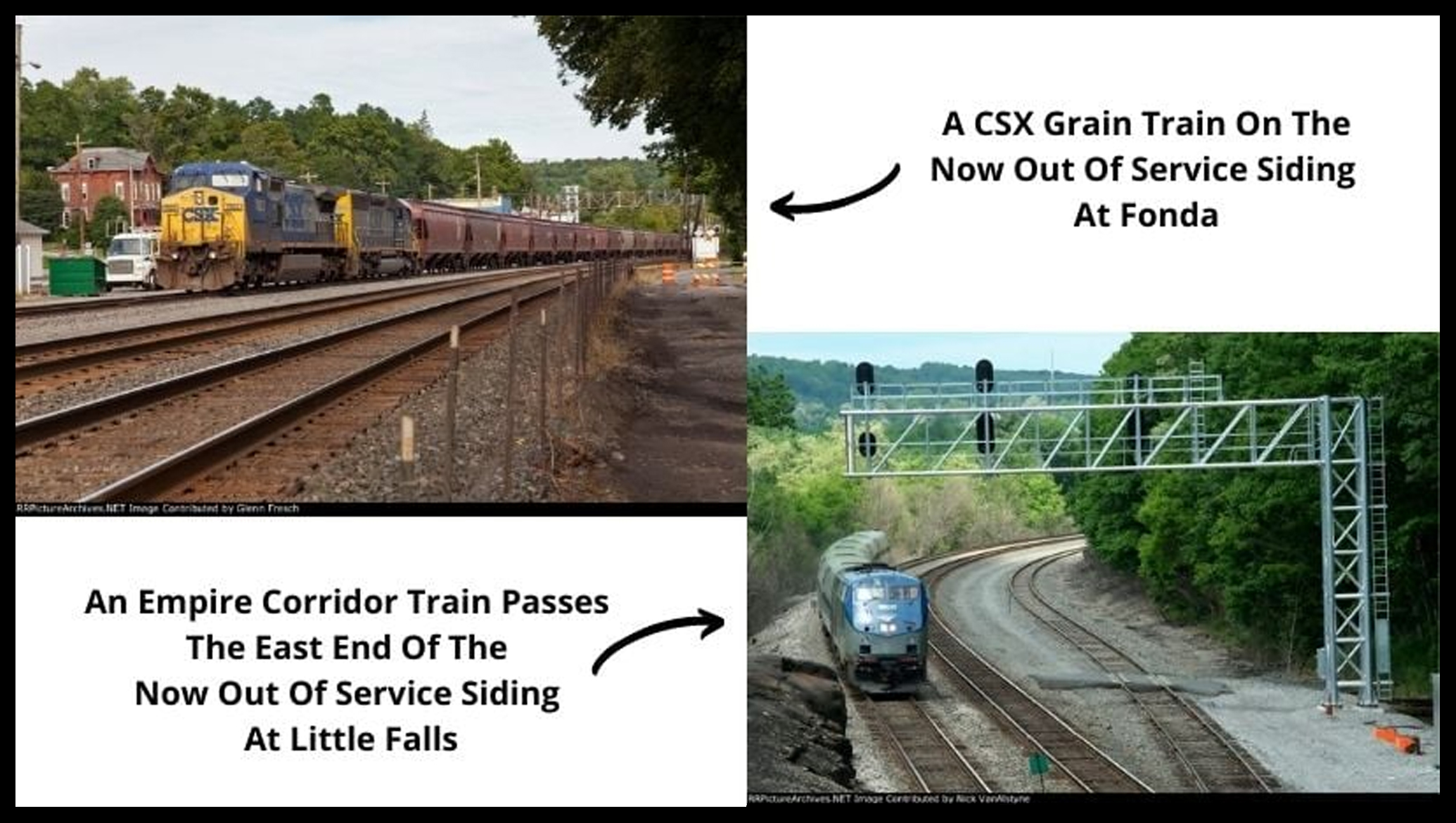 ESPA is highly concerned to have learned that CSX has recently removed from service the majority of the 'controlled' (i.e. signaled) sidings located between Hoffmans and Buffalo. This unexpected move will likely have a negative effect on Amtrak's Empire Corridor already-poor on time performance across upstate on CSX.
On the Hoffmans to Syracuse Mohawk Sub-Divsion, the sidings at Amsterdam, Fonda, St. Johnsville & Little Falls are now out-of-service. Futher west on the Rochester Sub-Division, the closures include the sidings at Savannah and Chili. There are no rail-served adjacent businesses along any of the now closed sidings.
These sidings were created when the New York Central installed Centralized Traffic Control (CTC) in the late 1950's & early 1960's and reduced their upstate mainline from four to two tracks. At that time approximately two to three mile segments of the former eastbound freight main track were retained at multiple locations and made part of the then highly-advanced remote controlled & signaled dispatching system. The sidings were intended, in part, to provide dispatchers the flexibility to move slower freight trains off of a main track, to allow higher speed passenger trains to pass.
After gaining ownership of the former NYC line from Conrail, CSX struggled to understand the use of the sidings, as there were no other wide-spread examples of a high-capacity double track mainline having such signaled sidings anywhere on their system. Under CSX, the operating flexibility afforded by these 'controlled by the dispatcher' siding was never maximized, which routinely led to delays to Amtrak trains stuck behind slower freight trains. And with the adoption of the Precision Scheduled Railroading (PSR) operating model in recent years, CSX has progressively increased the length of most freight trains, many of which now are over two-miles in length. Unfortunately, many current CSX trains can't even fit onto the existing sidings.
But asides from providing operating flexibility & added capacity, the sidings also afforded CSX the ability to efficiently set-out malfunctioning 'bad-ordered' freight cars; stage on-rail track maintenance equipment and store cars as needed.
Reportedly the sidings have only been taken out of service for a sixty-day 'trial' period which started on May 21st. But with the siding at Oneida (which was already out of service) having now been fully ripped-up, the outlook for the remainder of the newly decommissioned sidings is likely poor. Being done clearly as a cost saving measure, the speculation is that CSX is looking to cut expenses by both reducing maintenance costs and also by lowering their local property assessments through the removal of the physical siding track & related switches/signals. It should be noted that such lowered property assessments will result in reduced tax collections for many local upstate jurisdictions and school districts.
ESPA strongly urges NYSDOT to swiftly investigate this move by CSX and its likely negative effect on the already poor Empire Corridor on-time performance on CSX. EPSA also urges NYSDOT to examine the impact the removal of the sidings could have on future passenger rail improvements along the route.