Saratoga-Schenectady Service
Saratoga-Schenectady Service Extension
Saratoga Future Service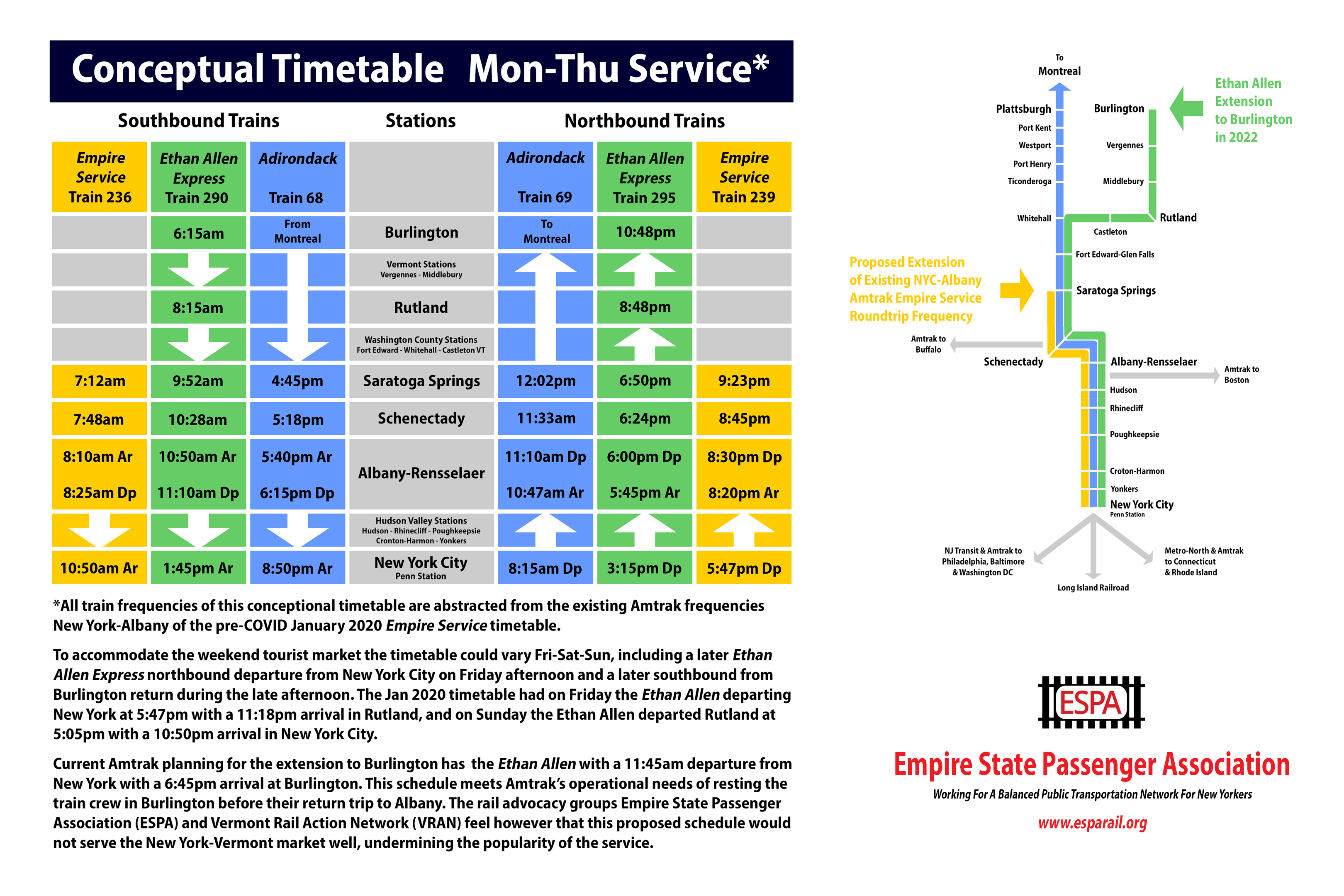 Schenectady Future Service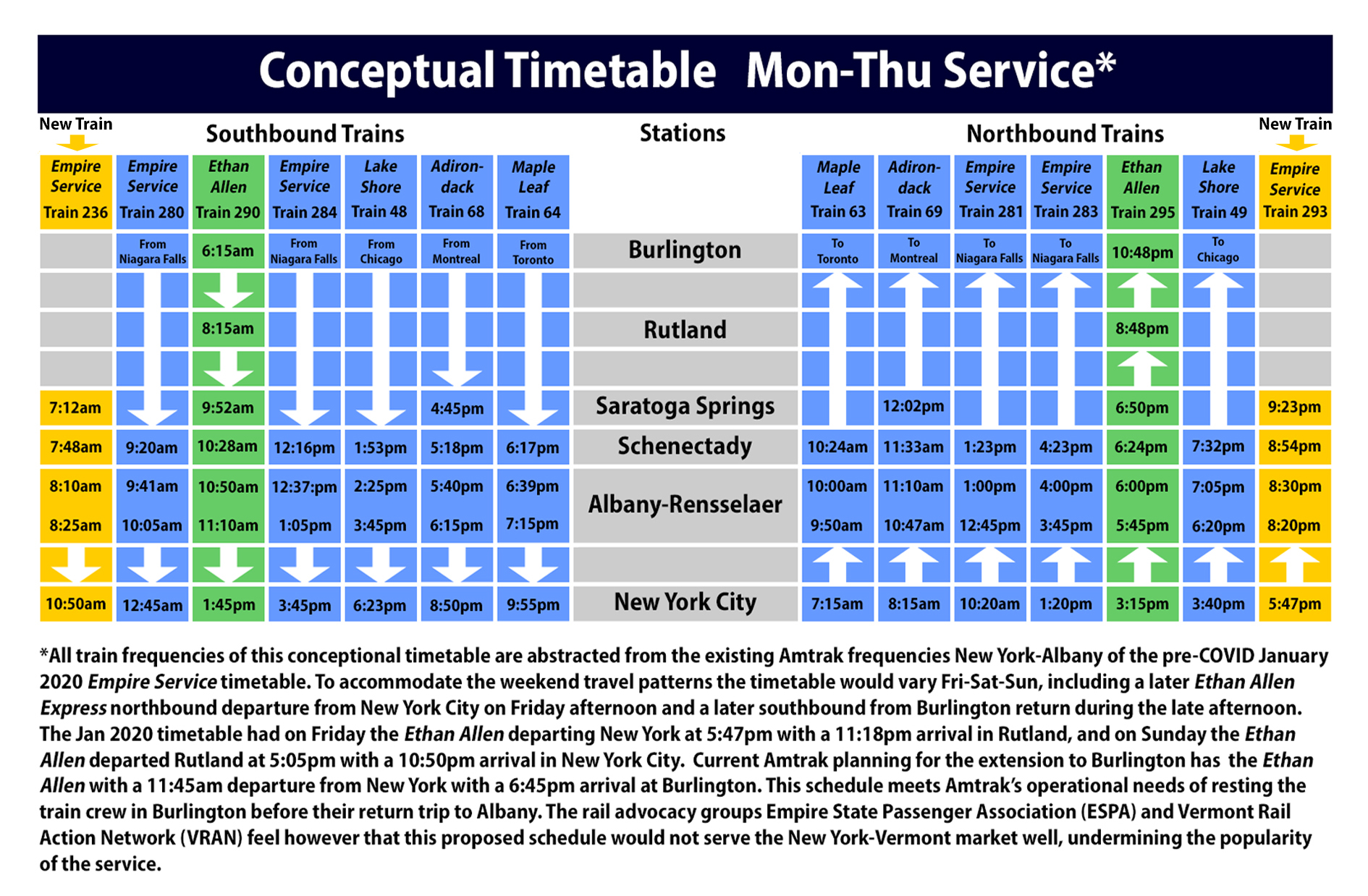 ---
Saratoga Rail Service Press Conference – Friday April 30th 2021
---
ALBANY TIMES UNION – Officials in Saratoga call for earlier resumption of Amtrak service BY Eric Anderson
"In addition to resumption of the Ethan Allen and Adirondack services, local rail advocates also would like to see at least one more Empire Corridor train extended from Albany-Rensselaer to Saratoga Springs, giving Saratoga residents three daily round trips from which to choose, as well as adding another round trip at Schenectady, the stop between Albany-Rensselaer and Saratoga Springs stations. New trainsets that Amtrak plans to order this summer may come with so-called push-pull capabilities that would avoid the need to turn the trains around at each end of their trip. That would also make it easier to extend additional trains now terminating in Rensselaer north to Saratoga."
CBS NEWS 6 ALBANY STORY – Advocates look to NYSDOT and Amtrak to restart Ethan Allen line service. It's time to get back on the rails! It's the stance the Saratoga County Chamber and the Empire State Passenger Association are taking.
GLEN FALLS POST-STAR: WATCH – Saratoga chamber President Todd Shimkus speaks about rail service
---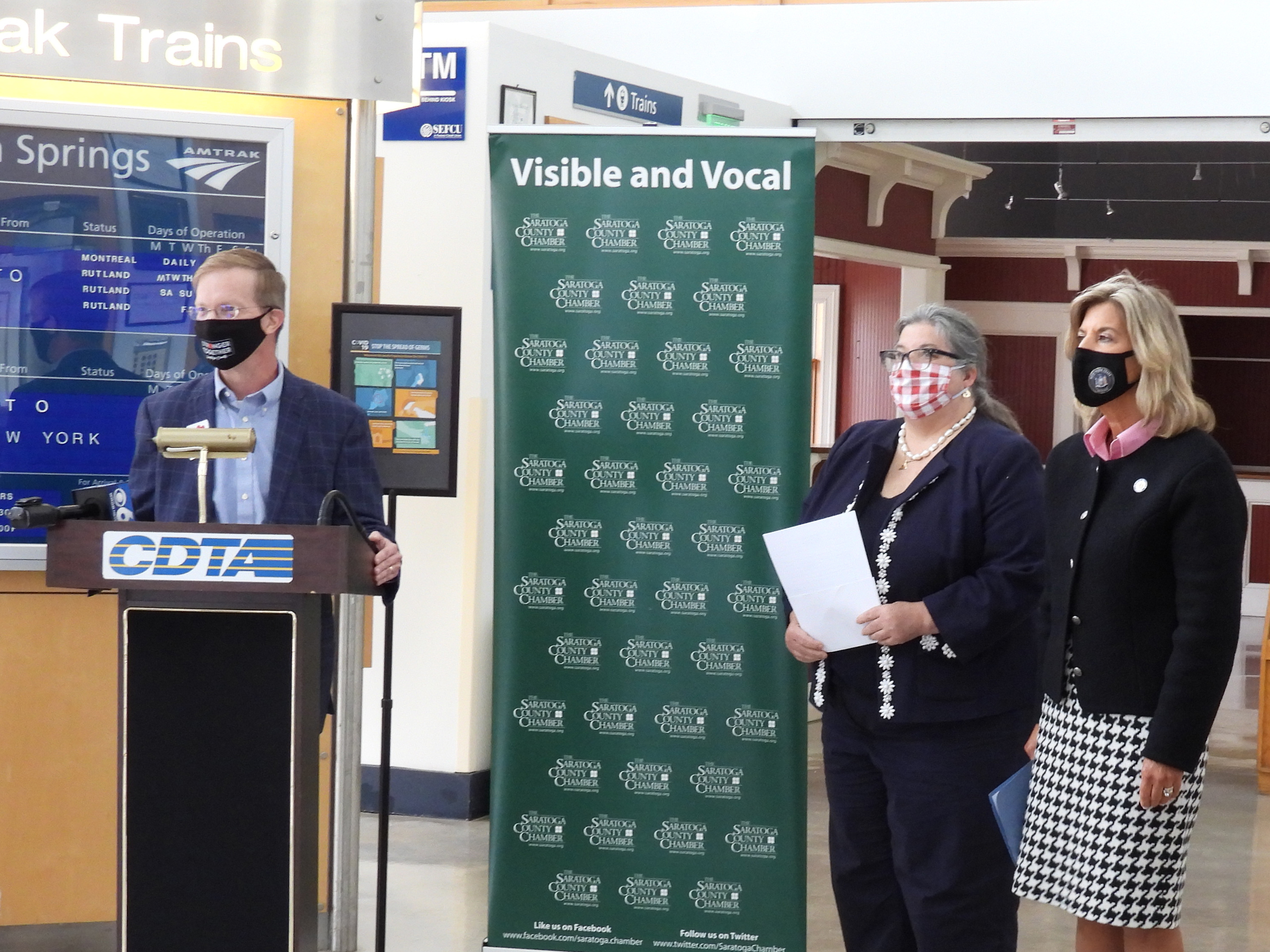 Todd Shimkus – Saratoga Springs Chamber of Commerce
---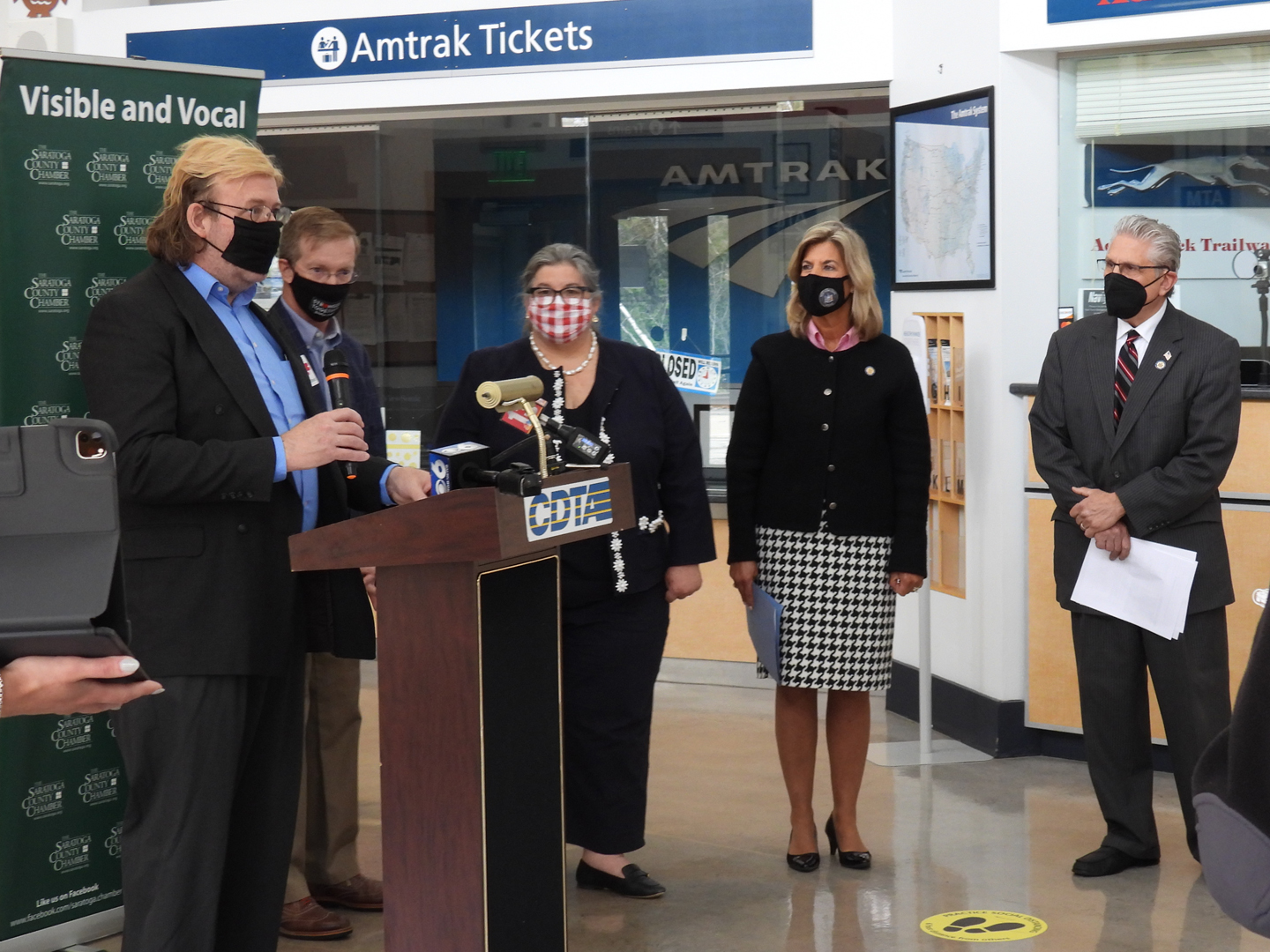 Gary Prophet – ESPA President
---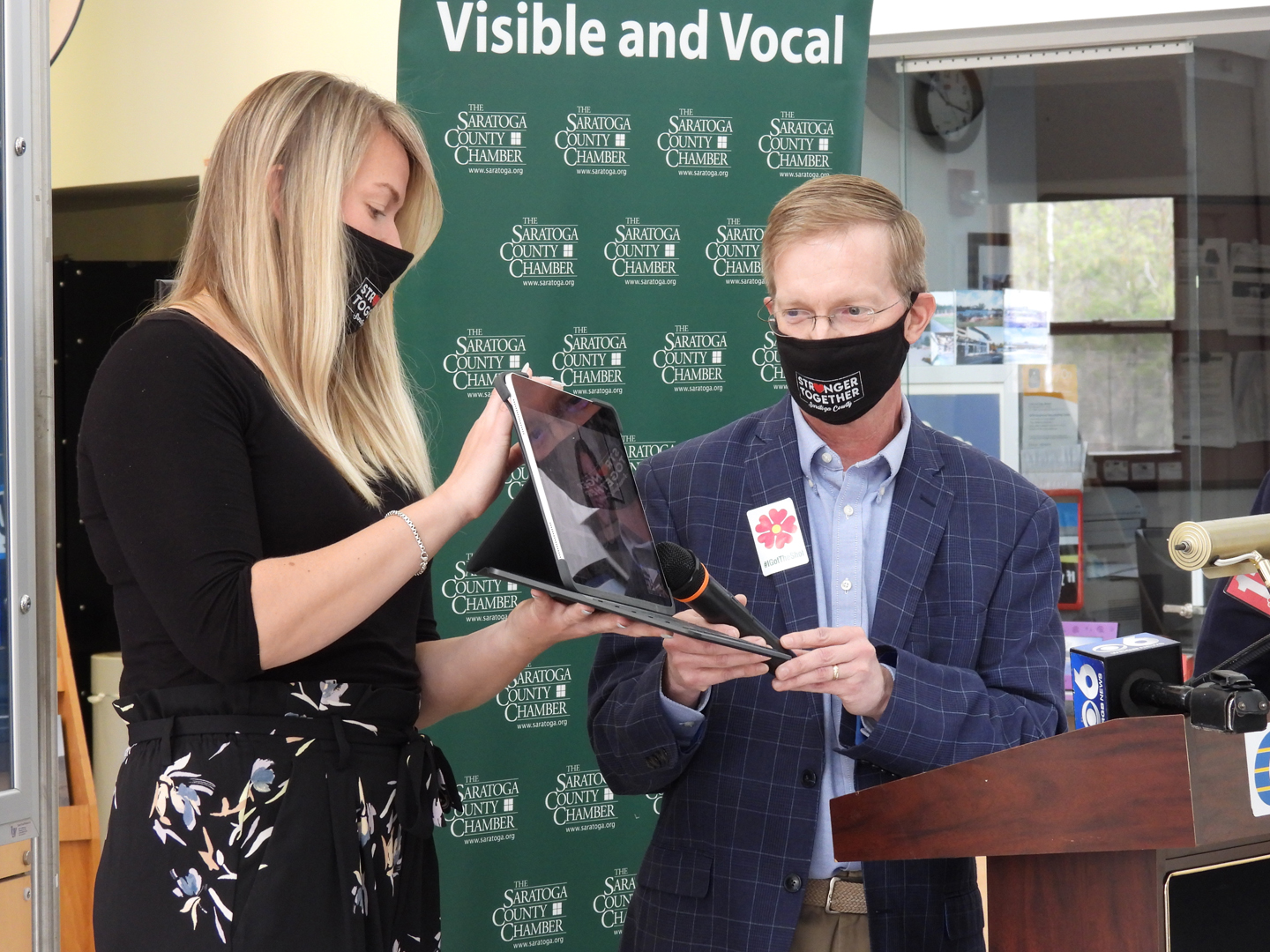 Kathy Davis – Lake Champlain Chamber of Commerce (by video phone from Burlington VT)
---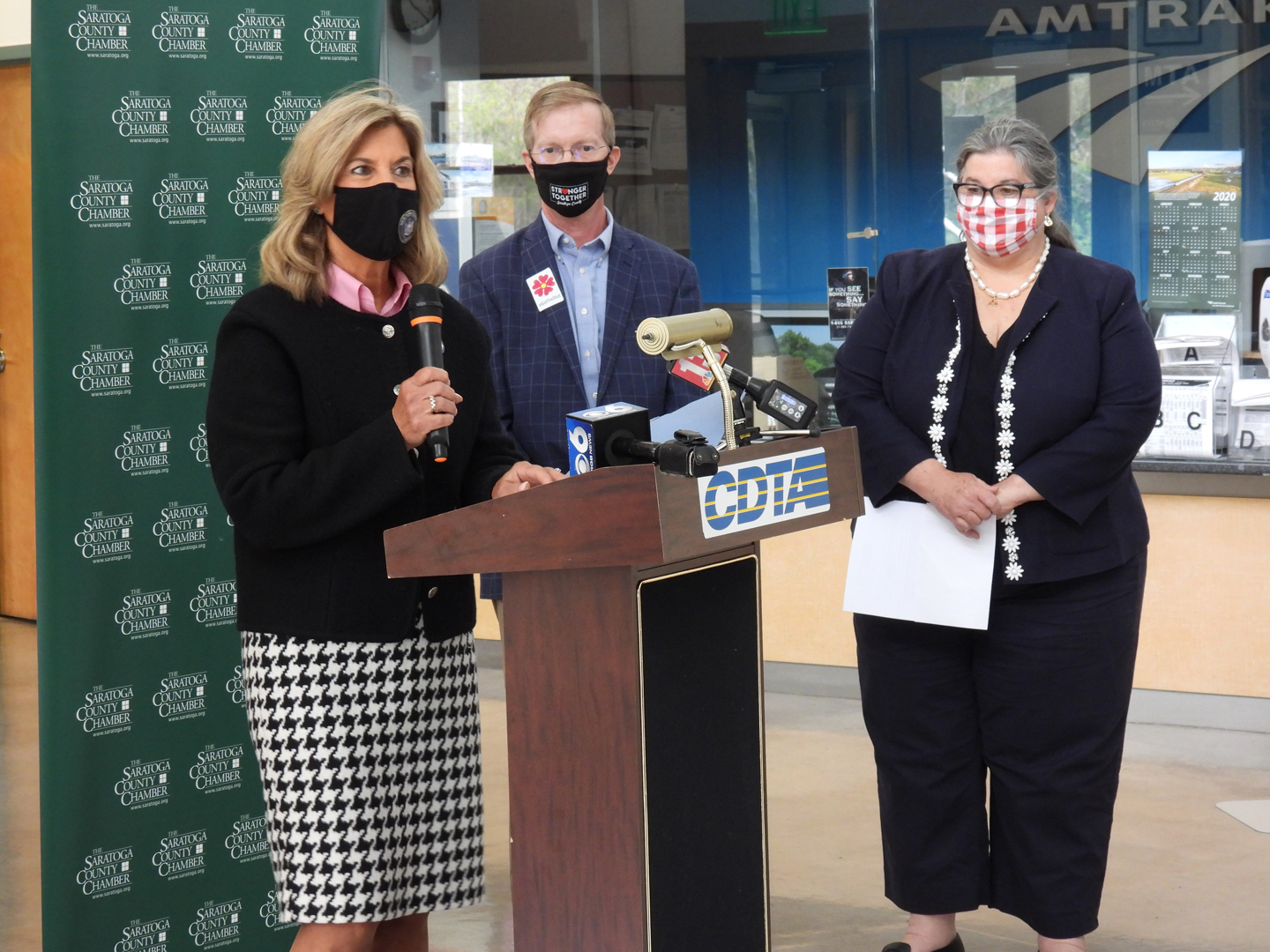 State Senator Daphne Jordan (R) NY SENATE DISTRICT 43
---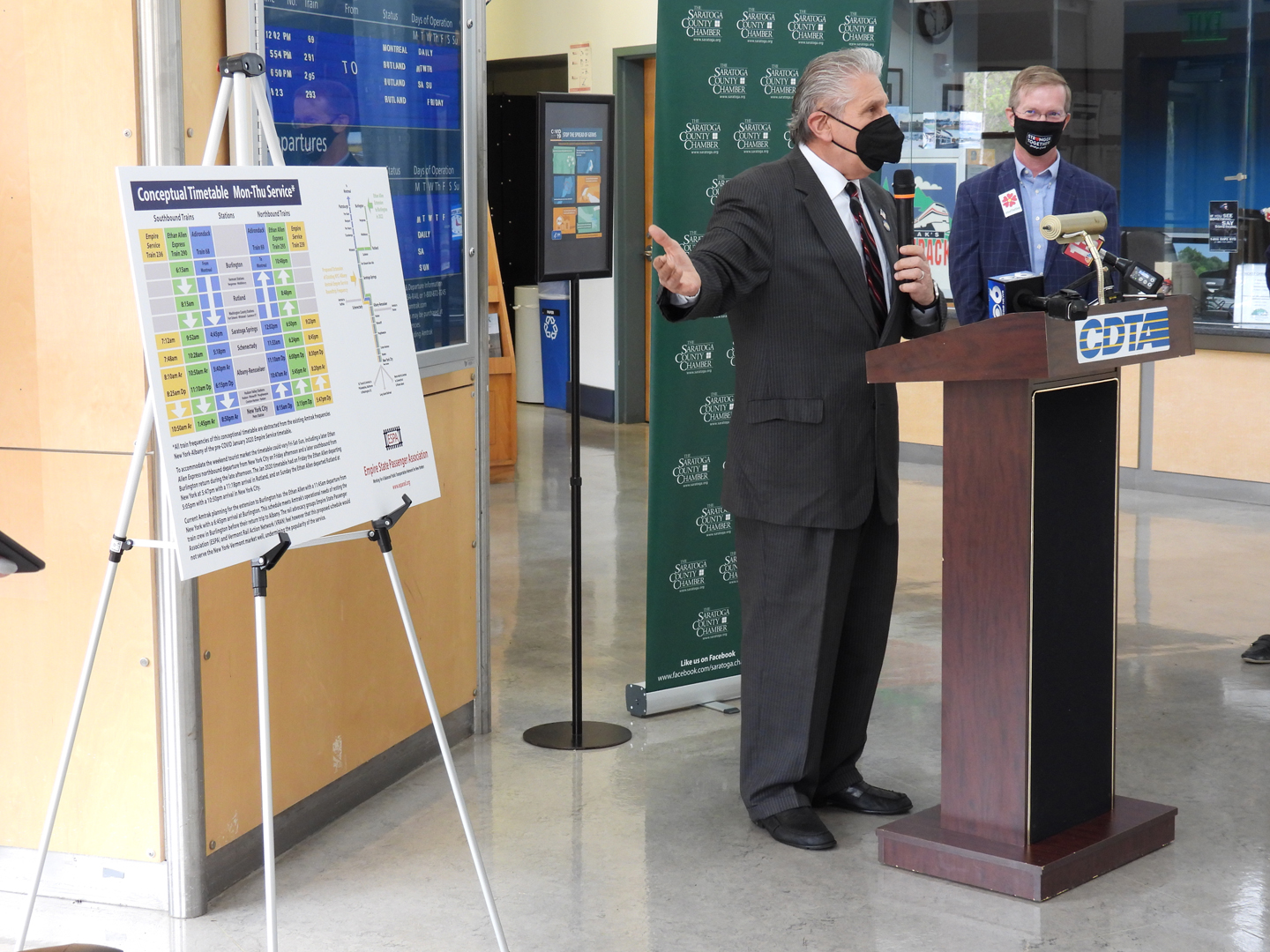 State Senator James Tedisco (R) NY SENATE DISTRICT 49
---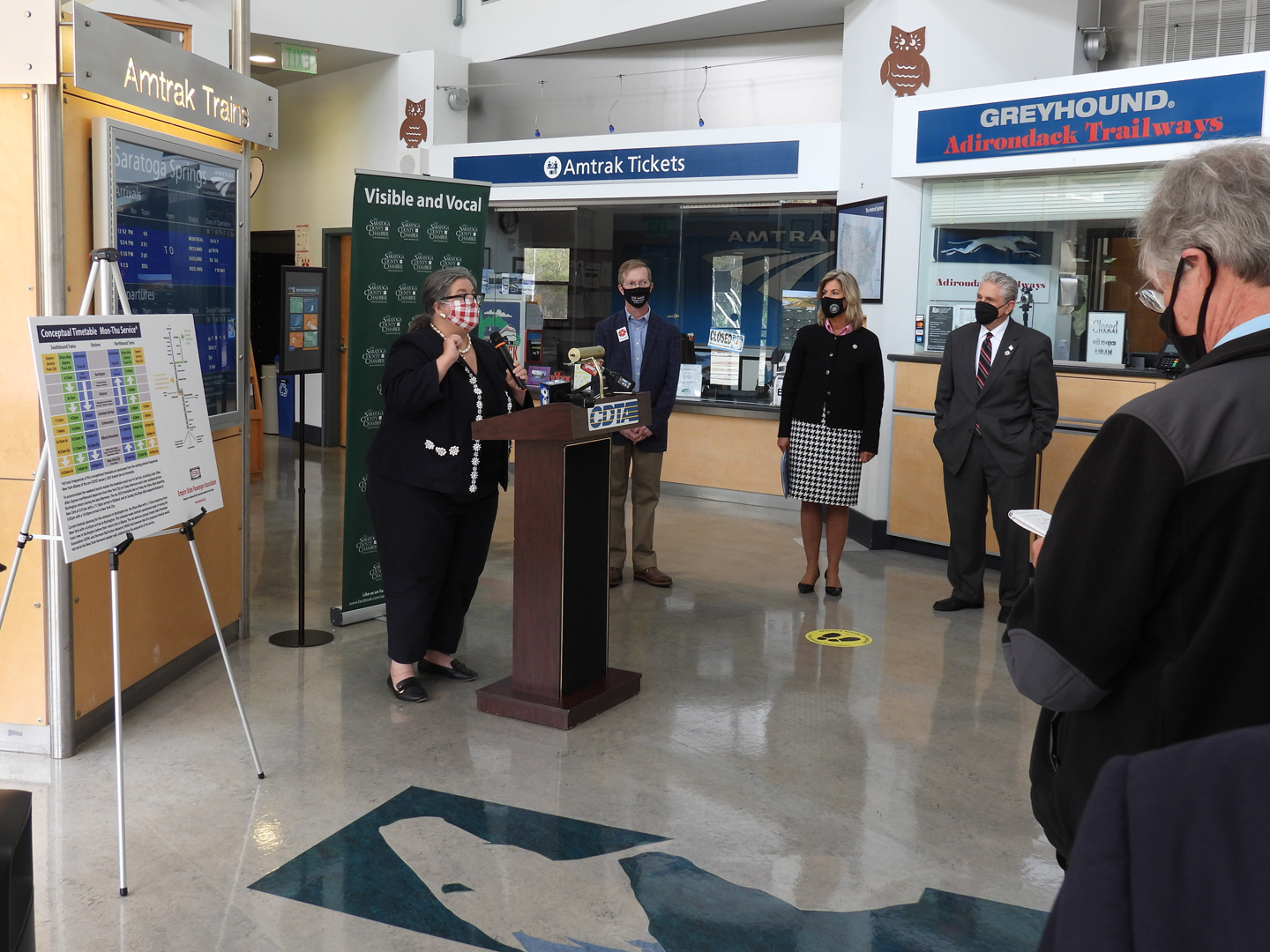 Assemblywoman Carrie Woerner (D) ASSEMBLY DISTRICT 113
---
Schenectady Rail Service Press Conference — Monday June 7th 2001
---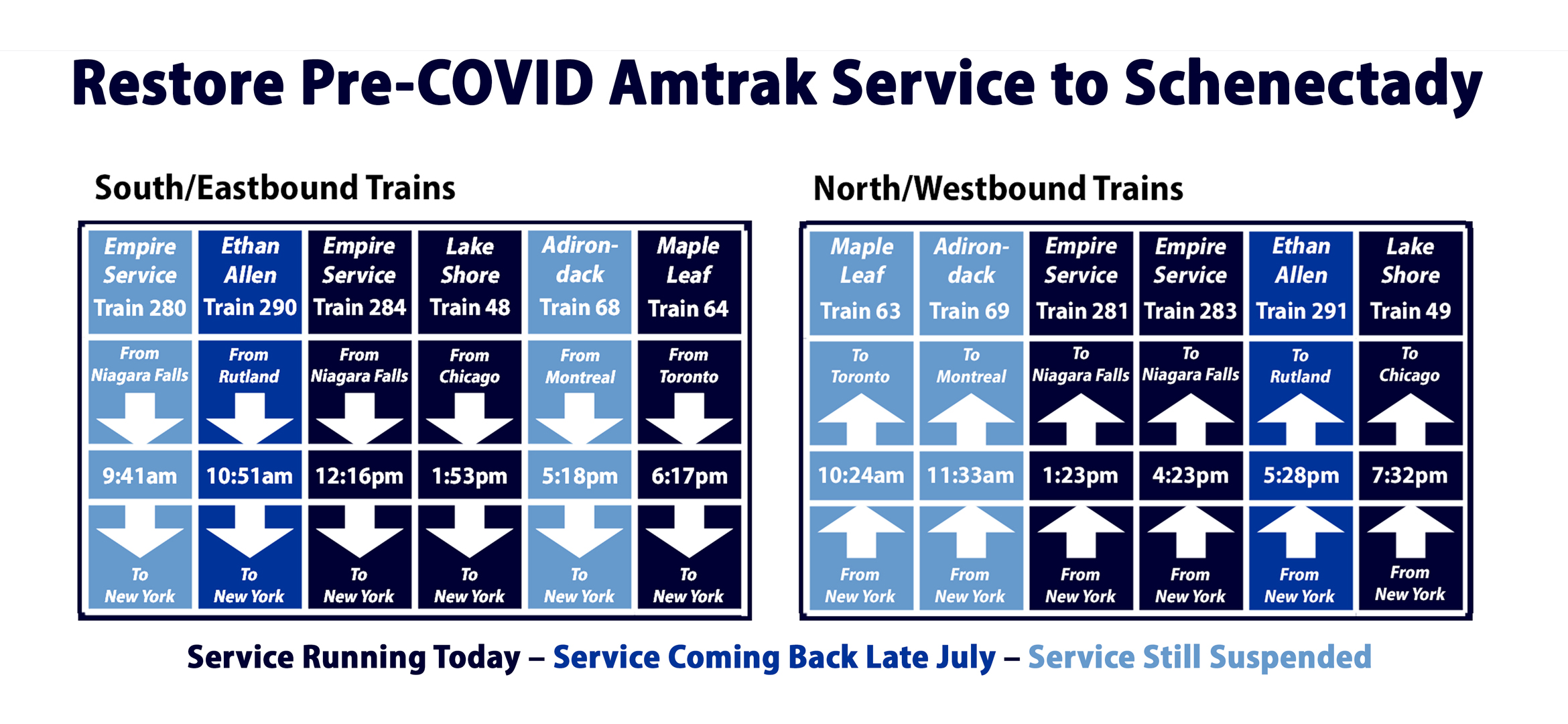 Empire State Passengers Association
Seeks Restoration of Amtrak's Empire Corridor Trains to Schenectady, Syracuse and Western New York
Supports Saratoga Springs Chamber of Commerce's Interest in a Third Daily Roundtrip to Schenectady and Saratoga in 2022
Good morning to Mayor McCarthy, representatives from the Schenectady business and tourism communities, State Senator Tedisco and Assemblymembers Steck and Santabara. My name is Gary Prophet, and I am the President of the Empire State Passengers Association, a statewide intercity passenger rail and public transportation advocacy organization.
ESPA is pleased to join today's press conference and support the restoration of Amtrak's full pre-Covid schedule in the Empire Corridor. We respectfully call upon New York's Commissioner of Transportation, Marie Dominguez, to restart the two missing early a.m. westbound and eastbound trains so that travelers will have additional travel opportunities to visit Schenectady, Syracuse, western New York and New York City this summer.
If New York State does not act soon, Amtrak will have insufficient time to restore these trains during the busy summer travel season. Local businesses damaged by the Covid closures cannot afford to miss out on vacation spending that may travel elsewhere if this additional train capacity is not restored soon.
The two Empire Corridor trains, along with the Ethan Allen train to Rutland, Vermont, are state-supported trains. New York underwrites the cost of providing this train service and it is the primary decision-maker on when service resumes. (Vermont also plays a role in the Ethan Allen decision.) ESPA calls on NYS DOT to move up the July 19th re-start date for the Ethan Allen and establish a re-start date for the Empire Corridor trains so that we can come back better and stronger.
ESPA also joins the Saratoga Chamber and the Schenectady business community in asking New York State DOT to work with Amtrak to extend an existing Empire Service daily roundtrip to Schenectady and Saratoga in 2022 so that residents of the northern portion of the Capital Region would have a new commuting option to Albany and stops to the south. Additionally, this service extension would provide both Schenectady and Saratoga Springs with an additional daily roundtrip to the Hudson Valley and New York City providing more options and convenience in traveling by rail.
Adding more rail service in the Empire Corridor can be an important part of New York state's plan to reduce carbon emissions from transportation and comply with the requirements of the New York State Climate Act.
We would also like to congratulate Amtrak and the State of Vermont for their work in advancing the extension of the Ethan Allen train to Burlington.
Planning and construction activities are well underway that will bring passenger train service back to Burlington next year. This will create new travel opportunities for New Yorkers, Vermonters and visitors to our two states.
Thank you,
Gary Prophet
President of the Empire State Passengers Association
---
---
Expanding Amtrak Service Early 2022
'Ethan Allen Express' Extension to Burlington — Proposed: Extend Existing NYC-Albany 'Empire Service' Round Trip to Schenectady and Saratoga Springs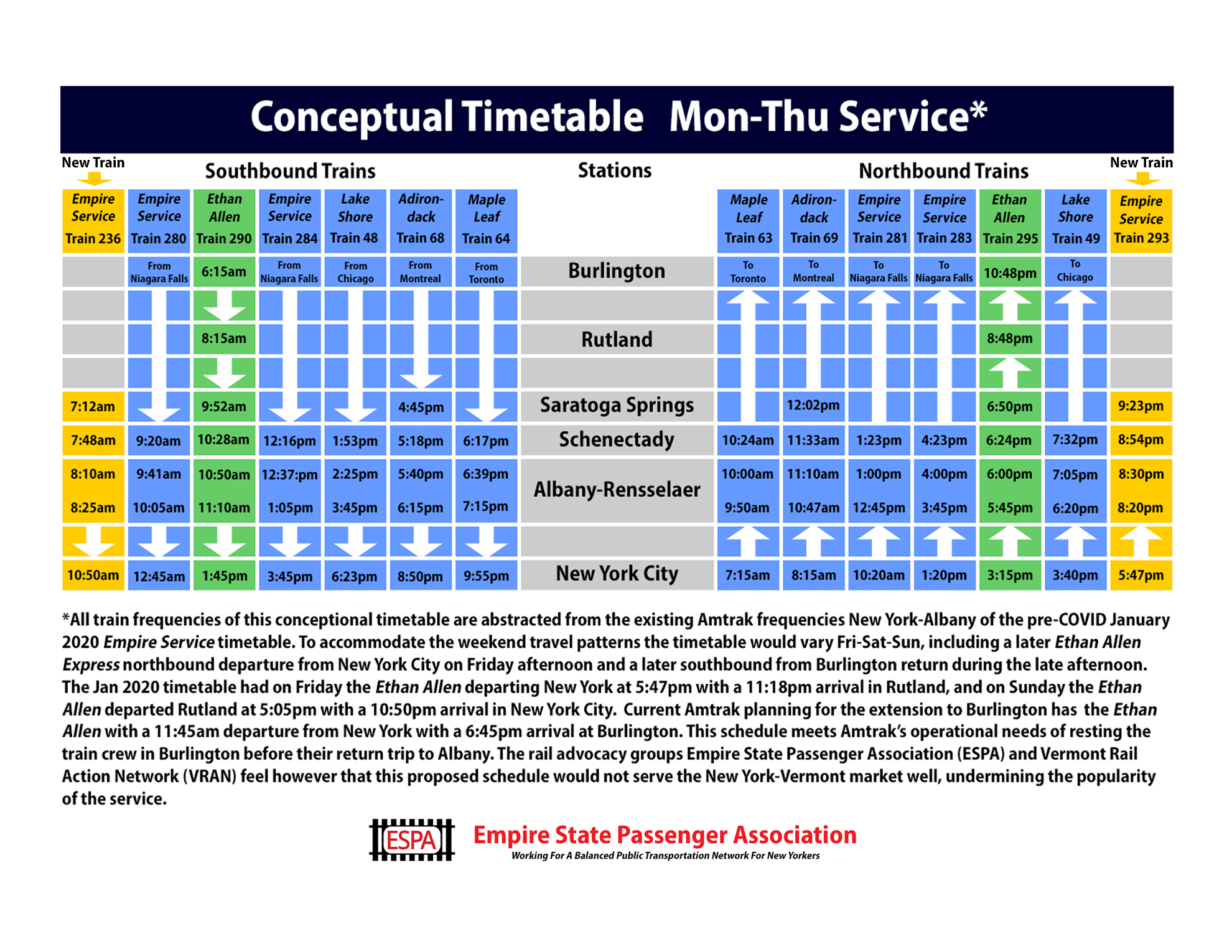 ---