East–West Rail Project
East–West Rail Project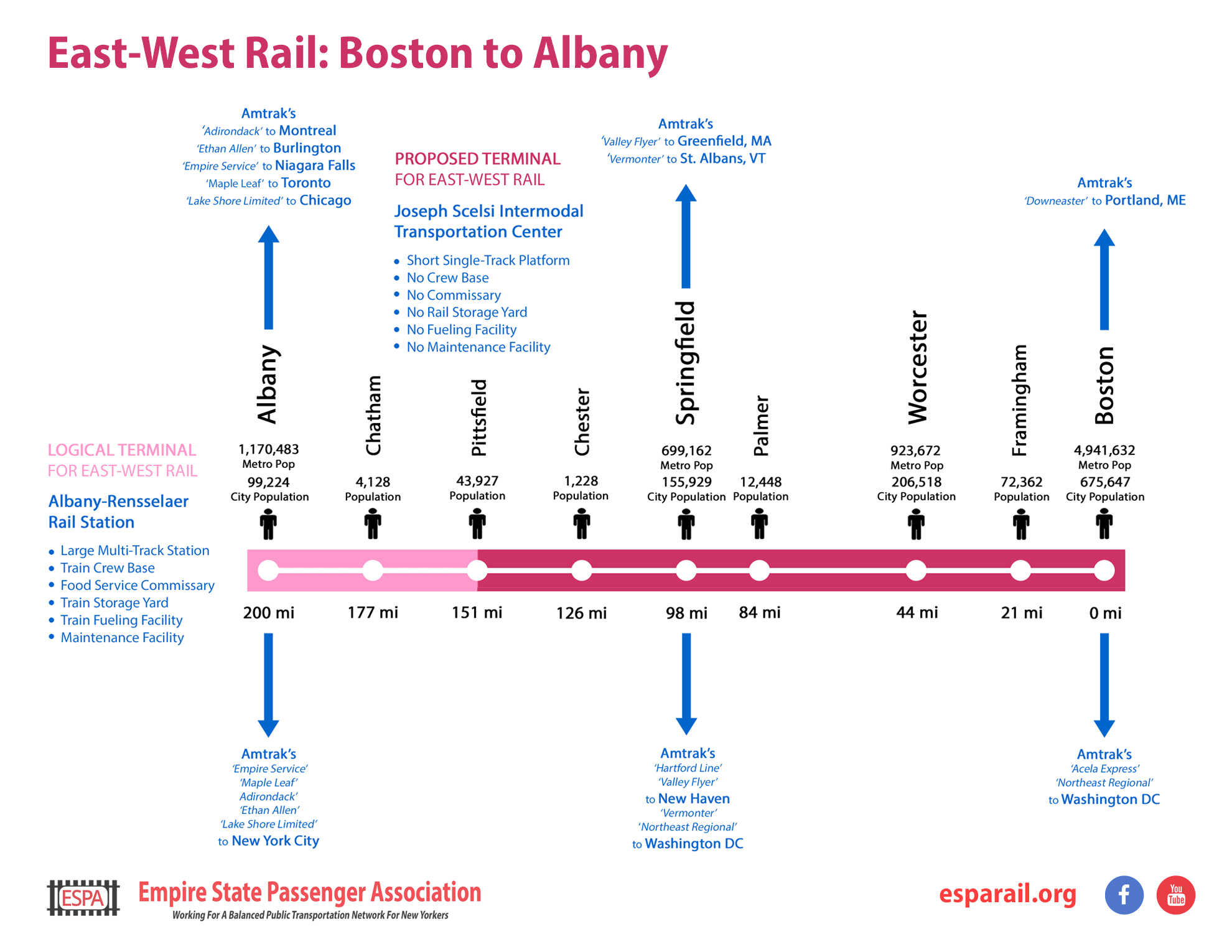 The Berkshire Flyer
The Berkshire Flyer is Amtrak's new seasonal passenger rail service between New York City and the Berkshires.
All Aboard!

Boston-Albany "East-West Rail" Corridor Service
---
*UPDATE Aug 2022
State lawmakers passed a $275 million bond authorization for the project that goes with a $50 million bond authorization passed in 2020 and federal money included in the 2021 bipartisan infrastructure bill. The authorization comes with a new commission that will host a series of public hearings over the next nine months and come up with a more detailed implementation plan.
*UPDATE July 2022
After a two-year study by the Berkshire Flyer Steering Committee, a pilot was set to begin in summer 2020. But, legal questions and the beginning of the pandemic delayed its start. A sudden deal between Amtrak and CSX Corp. — which owns tracks on the Berkshire Flyer line — put the pilot program back on track for this summer and the following summer season.
*UPDATE May 2022
Gov. Charlie Baker and U.S. Rep. Richard Neal called Tuesday for a Western Massachusetts passenger rail authority that would apply for federal funds and evenly administer expanded east-west commuter rail. "This is an agreement on a path forward here," Baker said. Amtrak, which has been vocal about its plans to expand in the Northeast, would run the trains, Baker said in a news conference with Neal at Springfield Union Station.
Boston Mayor Michelle Wu declared her enthusiastic support for high-speed rail that would connect the state's capital with Western Massachusetts, saying combining housing and job opportunities from the two regions opens possibilities for everyone in the state. Wu visited Western Massachusetts on Sunday where she was named Democrat of the Year by the Longmeadow Democratic Town Committee. During her speech, she talked about the east-west rail proposal, climate change and other topics.
---

Original Text from 2020
Imagine being able to take the train to Boston as conveniently as you can now go to New York City on Amtrak. Well, it could happen if New York State were to partner with Massachusetts on its ongoing efforts to connect the western half of the Bay State by rail to Boston and New York City. In 2020 MassDOT will release the final version of its East-West Passenger Rail Study. The study is examining the feasibility, costs, and benefits of a corridor service, while also engaging with stakeholders.
The study does not consider service through to the Capital District, and this is unwise. Albany is the logical terminal for a future East-West rail service to the Berkshires. Albany-Rensselaer is Amtrak's ninth-busiest station, serving a metro region of over a million people. Including it would considerably boost ridership and revenue compared to a train terminating at Pittsfield. At Rensselaer there is also an existing Amtrak crew base, maintenance facility, and currently an operating food service commissary.
There are a few issues that will need to be examined about the feasibility of using the existing CSX Berkshire Subdivision (former Boston & Albany Railroad) for passenger service. The railway was completed in 1841 and has steep grades and many curves that limit speeds to 50, 40, and even 35-mph in some sections as it crosses the Berkshires and the rolling hills east of the Connecticut River Valley. At 200 miles the railroad is 30 miles longer than the I-90. Today's sole Amtrak train, the Boston-Albany-Chicago long-distance Lake Shore Limited, takes 5-hr 10-min to make the run — compared to 4 hours for Greyhound and 3 hours driving on the I-90 Mass Turnpike.
Yet despite these handicaps of physical infrastructure in the 1950s the New York Central's "Beeliner" passenger service utilizing self-propelled Budd Rail Diesel Cars made the run in 4-hrs 15-mins, while making nine intermediate stops. That works out to an average speed of 47-mph compared to the Lake Shore Limited's 39-mph average speed today. The first Beeliner train from Boston left South Station at 7:15am and arrived in Albany at 11:30am.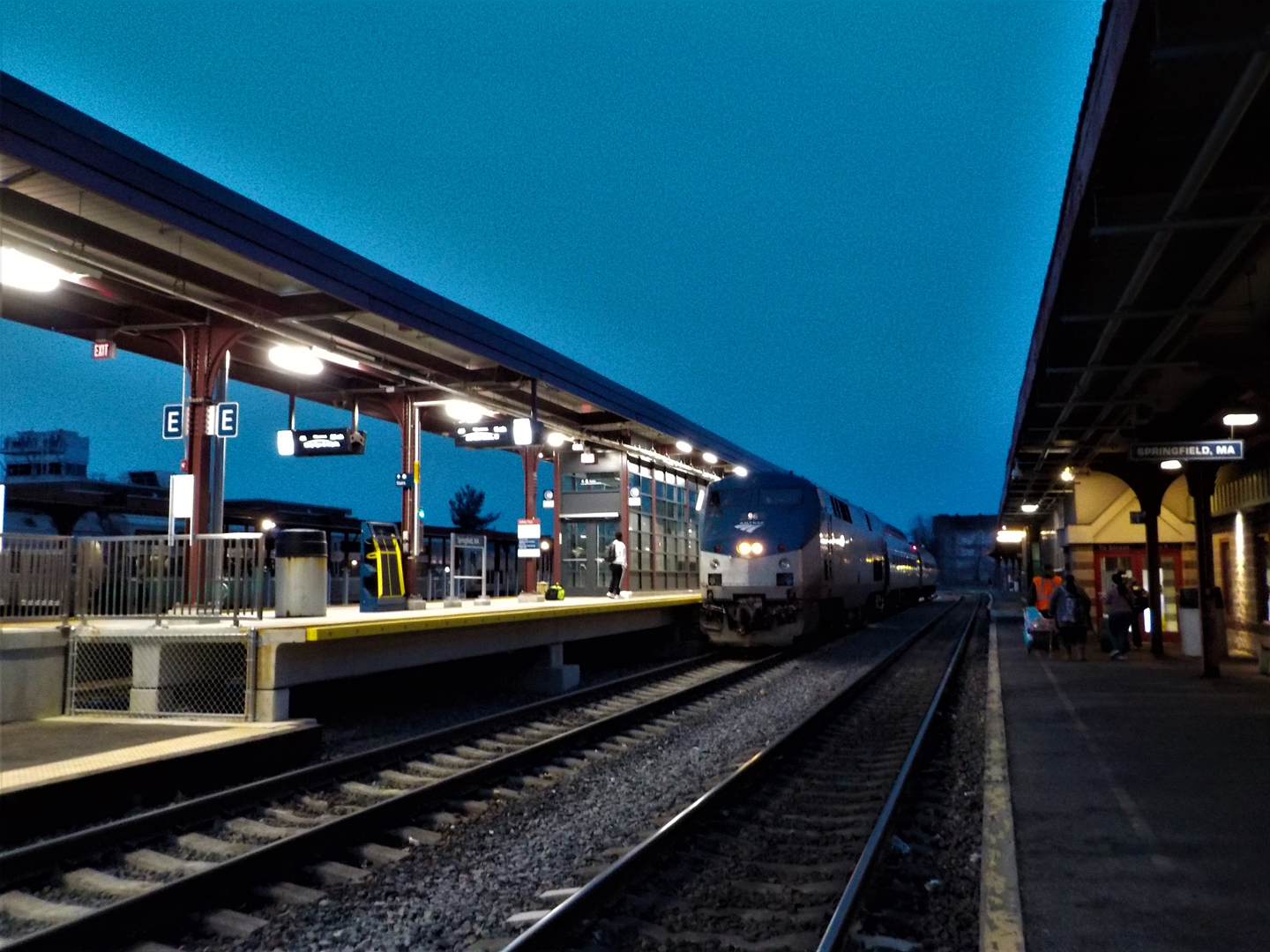 A CT Rail Amtrak train waiting to depart at Springfield Union Station during the evening of February 13th 2020
One big advantage the New York Central had compared to now was that the railroad was then entirely doubled-tracked — although the Beeliners were also considerably faster than the New York Central's then existing long-distance overnight locomotive-hauled trains. Trains like the Boston-Chicago New England States were longer and heavier than the lightweight and high-horsepower Budd RDCs that gave them good grade climbing abilities and fast accelerations. They also didn't carry luggage, mail, or express that mandated lengthy station stops for loading and unloading of baggage cars on the other passenger trains.
For Massachusetts, the benefits of extending the proposed East-West Rail service to Albany would greatly outweigh the costs. By bringing in considerably more additional riders and revenue it would make rail service to the Berkshires more financially viable — while also expanding travel options for both local residents and out-of-town visitors. New York State should step up to aid our neighboring state in a public enterprise that would mutually benefit the citizens and businesses of both our great states. Link to MassDot East-West Passenger Rail Study website.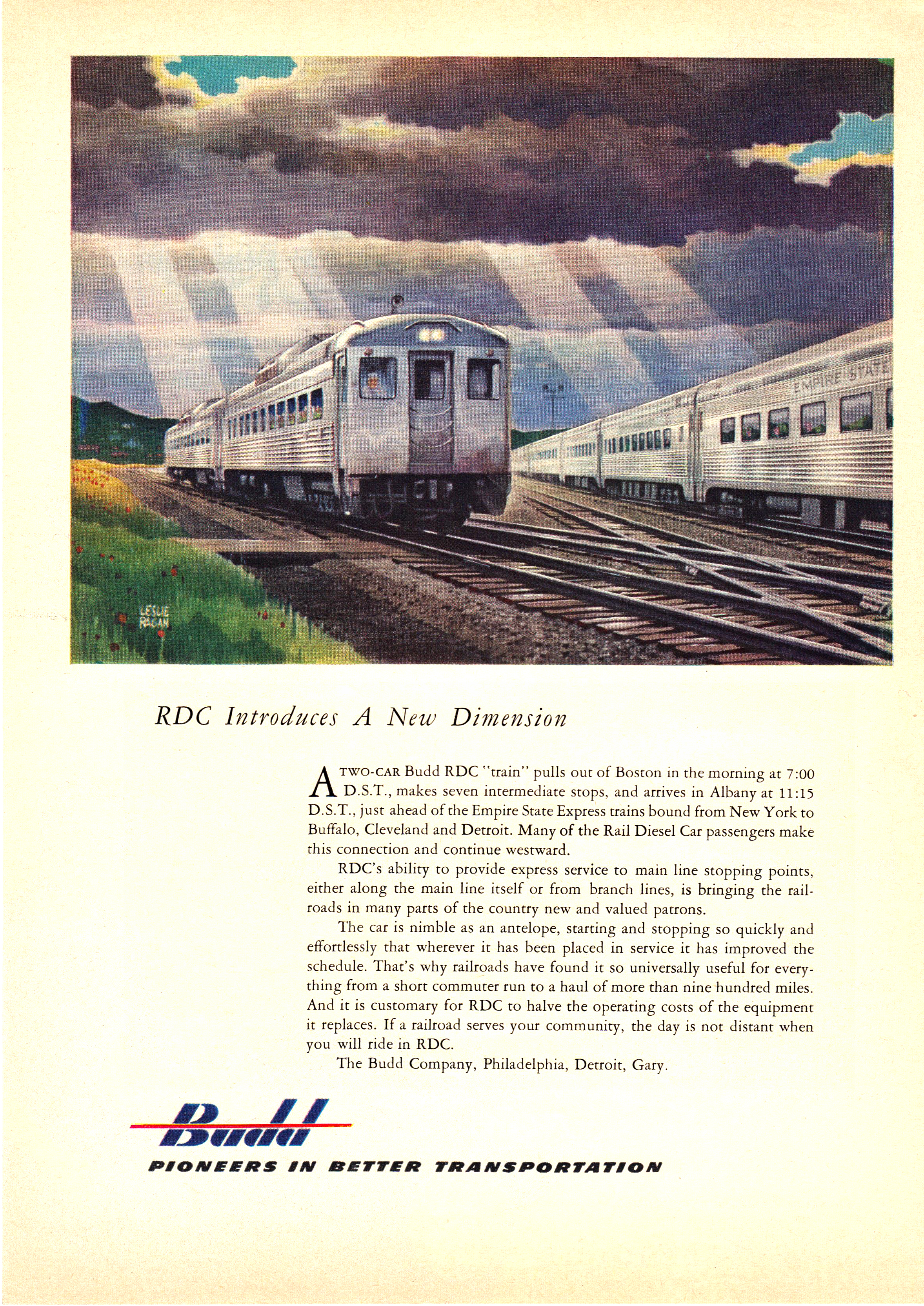 A 1950s print as from the Budd Company featuring the New York Central's Boston-Albany Beeliner service.
The Train Campaign
We're engaging communities throughout Connecticut, Massachusetts, and New York with a vision for robust 21st-century passenger rail systems. Our aim is to connect western Massachusetts and Connecticut to New York City with regional infrastructure for a sustainable future.
The Train Campaign

Trains in the Valley
Trains In The Valley was founded in 2016 as a local advocate for improved and expanded passenger and freight rail service in the Pioneer Valley region of western Massachusetts.
Trains in the Valley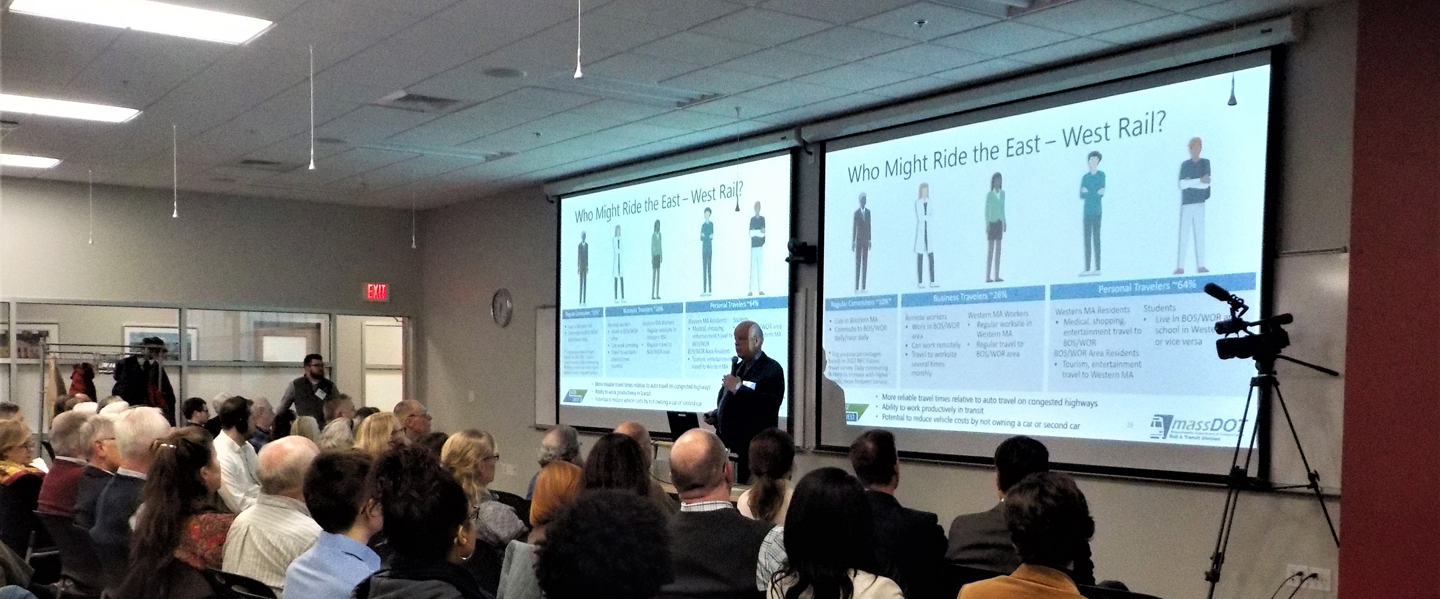 East-West Passenger Rail Study
The Massachusetts Department of Transportation (MassDOT) is conducting a study to examine the costs, benefits, and investments necessary to implement passenger rail service from Boston to Springfield and Pittsfield, with the speed, frequency, and reliability necessary to be a competitive option for travel along this corridor.
MassDOT