Lakeshore Rail Alliance
Lakeshore Rail Alliance

Lakeshore Rail Alliance
ESPA is very pleased to be a founding organizational member of the new Lakeshore Rail Alliance, which is advocating for increased & improved train service along the current Lake Shore Limited route between New York City & Chicago. All Aboard Erie (PA) is the host organization for this new collaboration of seven passenger rail advocacy groups along the route. At a Press Event held on July 27th, 2021 in Erie, PA, the Alliance was formally announced, along with an introduction of it's new Erie-based Executive Director Michael Fuhrman. ESPA's Bruce Becker and Roy Davis represented the Association at the event.
---
---

Lakeshore Rail Alliance press conference at Union Station in Erie, Pennsylvania
---
LOCAL MEDIA COVERAGE
---
Amtrak 2021Corridor Vision
As Amtrak celebrates 50 years of service to America, we are focused on the future and are pleased to present this comprehensive plan to develop and expand our nation's transportation infrastructure, enhance mobility, drive economic growth and meaningfully contribute to reducing greenhouse gas (GHG) emissions. A bold, 15-year strategy for expansion will connect dozens of city pairs up to 160 communities to Amtrak service, increasing ridership, environmental sustainability, and economic investment. And, all of this will be done in an energy-efficient manner that reduces our nation's carbon footprint through cleaner and more convenient passenger rail.
LAKESHORE RAIL ALLIANCE WEBSITE
It's time for more trains from Chicago to New York City
Lake Shore Corridor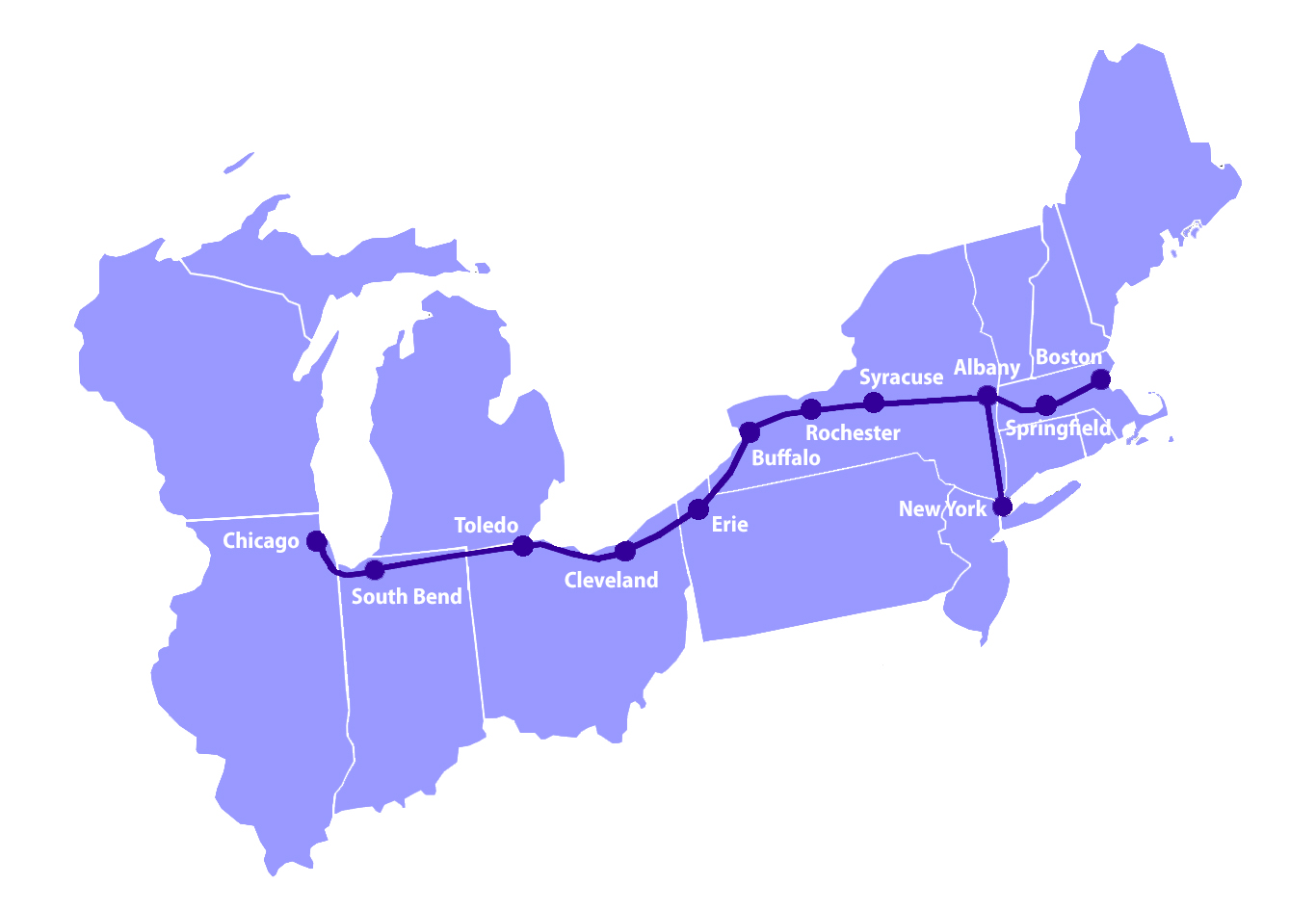 Chautauqua County Regional Rail Station
Support for a new intercity passenger rail station in or near Dunkirk, NY southwest of Buffalo
New Station

ABOVE: Amtrak's Lake Shore Limited passing the old New York Central Station, over to the right, in Dunkirk, NY. (Photo Roy Davis)
---
The Dunkirk Common Council Approves Study For Amtrak Stop
Council has agreed to pay $20,000 for a feasibility study on an Amtrak station at Tuesday's meeting
---
---