September 23, 2021
ESPA Testifies Before NYS Assembly Transportation Committee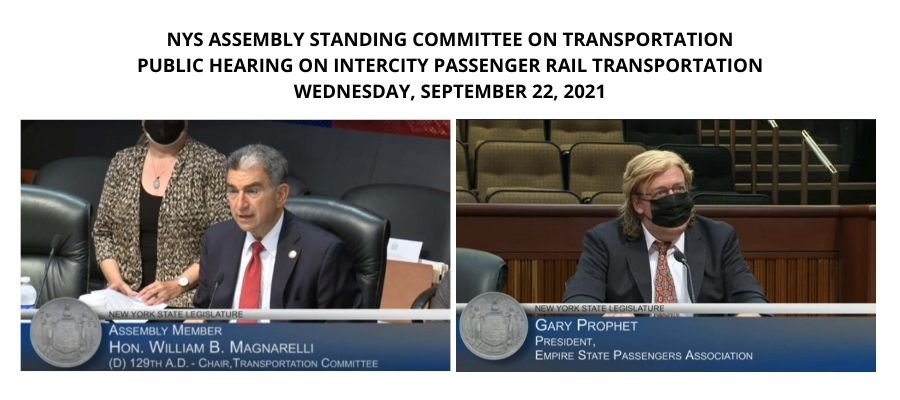 ESPA was honored to provide testimony at the public hearing on Intercity Passenger Rail Transportation held by the NYS Assembly Standing Committee on Transportation on September 22, 2021.
Assembly Committee Chair William Magnarelli (D-112) said "Rail passenger service that is frequent, reliable, is in a state of good repair, and whose on-time performance reduces travel time is key to increasing its attractiveness and, thus, its use. Strengthening the attractiveness and competitiveness of intercity passenger rail service could help the State in meeting its environmental and economic goals, by consuming less energy, reducing congestion and vehicle emissions, supporting smart land use policies, and providing workers, tourists, and other travelers with a reliable mode of transportation."
ESPA President Gary Prophet represented the interests of New York's rail passengers at the hearing. View Gary's testimony here.
Gary also provided Committee members with the Association's newly-released 'BLUEPRINT FOR NY INTERCITY PASSENGER RAIL'
Others who testified at the hearing included Ronald Epstein, Executive Deputy Commissioner, NYSDOT; Dennis Newman, Executive Vice President of Planning & Strategy, Amtrak; Scott Wigger, Executive Director, Railroads of New York; Maurice O'Connell, Regional Vice President, CSX Transportation; and Mayor Mark Blask, City of Little Falls, NY.