2021 NYS Rail Advocates Annual Meeting Videos
2021 NYS Rail Advocates Annual Meeting Videos
The 2021 New York State Passenger Rail Advocates Annual Meeting was held on Saturday, March 13, 2021, via Zoom Webinar.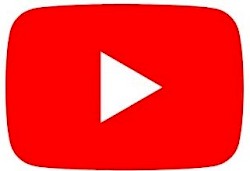 YouTube Videos of the meeting are available. Click the graphic below of the segment you wish to view!
---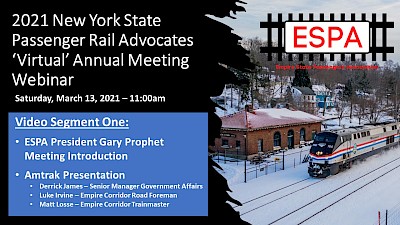 In Video Segment One:
ESPA President Gary Prophet opens the meeting by welcoming the attendees, followed by recognizing the recent passing of long-time ESPA Suffolk County Coordinator Don Nimphius.
Amtrak's presentation was lead by Derrick James (Amtrak's Chicago-based Senior Manager for Government Affairs), with Luke Irvine (Amtrak Road Foreman of Engines at Niagara Falls) and Matt Losse (Amtrak Trainmaster at Rensselaer) providing support & additional New York State information.
---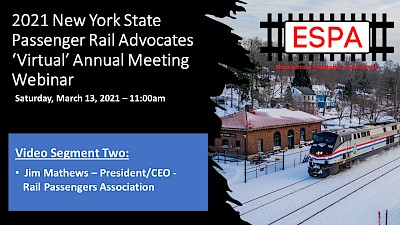 In Video Segment Two:
Rail Passengers Association President/CEO Jim Mathews provides an national passenger advocate summary & overview and takes questions from the attendees.
---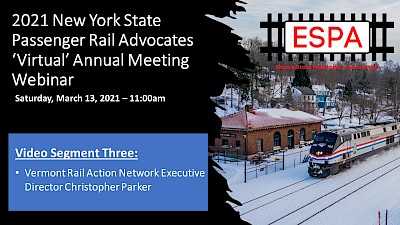 In Video Segment Three:
Vermont Rail Action Network Executive Director Christopher Parker an overview on the ongoing efforts to extend the Ethan Allen Express to Burlington, VT.; now slated to start in 2022.
---