Saturday, 11 March 2023
11:00am
2023 ESPA (& Rail Passengers Assoc. NE Division) Annual Meeting & Lunch
Venue Information
DoubleTree Hotel - Schenectady 100 Nott Terrace Schenectady New York 12308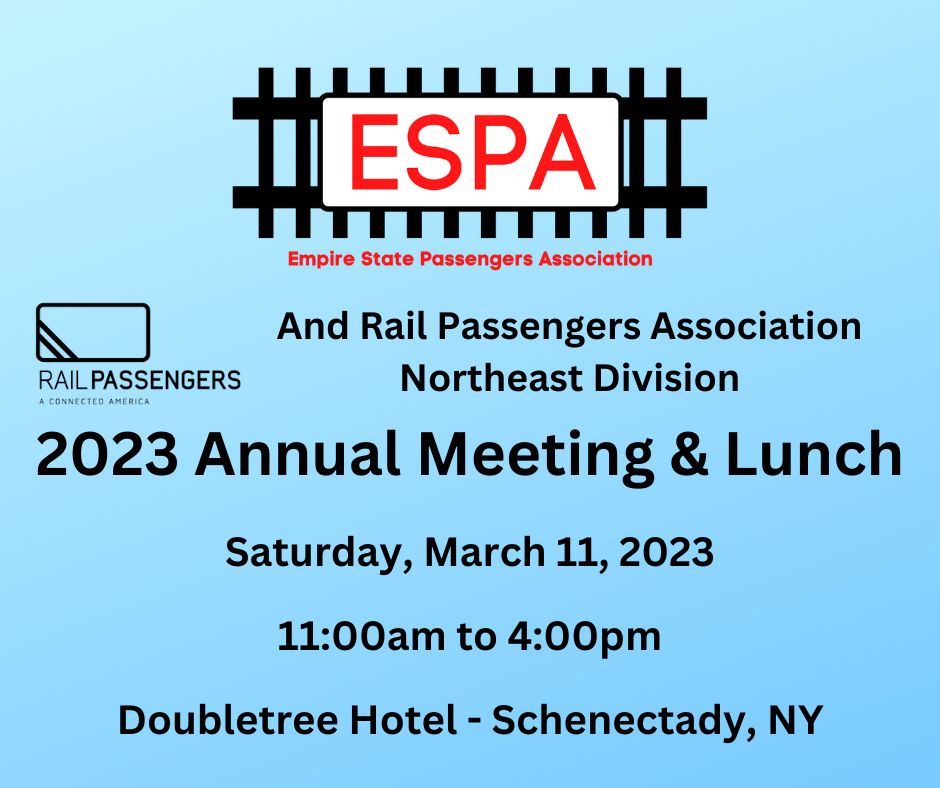 The Empire State Passengers Association (& Rail Passengers Association Northeast Division) 2023 Annual Meeting & Lunch will be held in person on Saturday, March 11, 2023, from 11:00am to 4:00pm, at the DoubleTree Hotel, 100 Nott Terrace, in downtown Schenectady, NY (approximately 5 blocks from the Amtrak Station).
Meeting registration will start at 10:00am in the DoubleTree Ballroom Foyer.
Full Registration includes morning coffee; a three-course lunch & afternoon beverages - $65.00 per person
Meeting ONLY registration includes access to the meeting ONLY (No food or beverage) - $30.00 per person
Note: Higher rates will apply after February 28, 2023!
The agenda will feature a full slate of speakers & presentations from Government, Amtrak and Allied Interest Groups.
Confirmed Speakers:
Meredith Richards - Chairperson - Rail Passengers Association

A small number of king bed rooms are available at a special rate of $129.00 on Friday & Saturday night - reservations must be made by February 8, 2023 to obtain this rate. Reserve On-Line ONLY at this link - https://bit.ly/3W1WjKm